Grammy Award-winning artist Ledisi will be the Berklee Institute of Jazz and Gender Justice's first artist in residence this fall.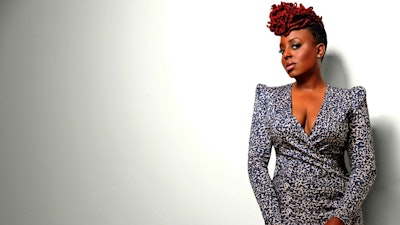 Ledisi received a Grammy in March 2021 for Best Traditional R&B Performance for her song "Anything for You," and a Grammy nomination for "Ledisi Sings Nina" for Best Traditional Pop Album in November 2021. She has 14 Grammy nominations, three Soul Train Music Awards, 19 NAACP Image Award nominations, and a NAACP Theatre Award. Ledisi also earned two L.A. Stage Alliance Ovation Award nominations, including for Best Featured Actress in a Musical.
Ledisi has also starred in film and television, including in the 2008 film "Leatherheads;" the 2014 film "Selma;" short film "The Tale of Four;" the 2019 series "American Soul;" the series "Pose;" the 2021 series "Twice Bitten;" and the biopic "Remember Me: The Mahalia Jackson Story."
As an author, she has written books including Better Than Alright: Finding Peace, Love & Power and Don't Ever Lose Your Walk: How to Embrace Your Journey.
She is president of the Los Angeles chapter of the Recording Academy, focusing on diverse voices.
The institute – founded by Terri Lyne Carrington in 2018 – is centered on equity and gender justice in jazz and beyond.