George Washington University's (GW) adjunct faculty union voted on a bargaining agreement on Nov. 4, pending approval from GW and Service Employees International Union Local 500 (SEIU 500) officials, The GW Hatchet reported.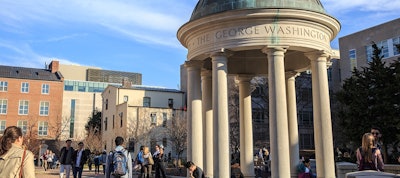 Per that agreement, GW part-time faculty may see their first contractual raise in four years and an increase in base salaries – from $4,467 to $5,000. The collective bargaining agreement (CBA) could give a 10% raise to all regular, or tenure-eligible, part-time faculty starting Spring 2023. It also doubles the $700 professional development fund adjuncts have for work expenses and bans full-time faculty from taking some of part-time professors' pay when co-teaching, according to union officials.
Dr. Kip Lornell, head of the adjunct faculty union and adjunct professor of music, history, and culture, said the pay still falls short of accounting for research and mentoring part-time faculty do in addition to teaching.
On average, full-time GW professors earn a $186,000 salary, while regular part-time faculty earn a $24,683 salary, according to the 2019-21 GW collective bargaining agreement.
"I can't pay our adjunct faculty what they deserve," said Lisa Page, director of GW's creative writing program. She also said adjunct professors are often left out of equitable pay discussions because they don't work full time at universities.