Faculty at the tumultuous New College of Florida have voted to censure the school's board of trustees for "disregarding their fiduciary duties," according to a letter sent to college leaders May 22, the Tampa Bay Times reported.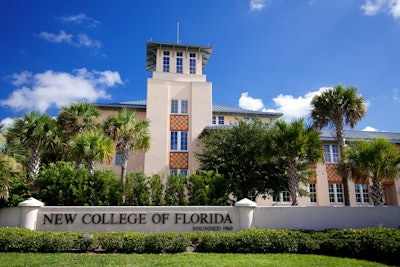 Approximately 80% of the faculty voted in favor of a motion listing 13 complaints against the board, to which Florida Gov. Ron DeSantis appointed six new trustees in order to change the direction of the Sarasota school.
Since then, "we've just experienced one thing after another that illustrates that the board members are not fulfilling their fiduciary duties," said Dr. Liz Leininger, an associate professor of biology who raised the motion on behalf of a colleague.
Faculty went with a censure rather than a vote of no confidence because they are hoping the board will correct specific behaviors, Leininger said.
The motion's allegations include that trustee Matthew Spalding communicated with Richard Corcoran outside of public meetings to pave the way for Corcoran becoming New College's interim president; and that trustee Christopher Rufo, a conservative activist, "refuses to cooperate with public records ... requests related to his work" at the school,
Another claim is that Rufo, trustee Mark Bauerlein, and appointee Eddie Speir have not "disclosed financial conflicts of interests related to school partnerships, other governing boards, or income from subscriptions to their writings or test products."
Rufo and Speir "regularly make disparaging and unprofessional" comments about the school's faculty, students, and staff on social media, and their writings diminish the college's standing, the motion states.
And when a board majority voted to deny five faculty members tenure, they did so without explanation "or evidence of having read the tenure files or understanding tenure processes at the college, as is their duty," the motion stated.
New College's faculty union is prepared to defend its members against potential retaliation, union president Dr. Steve Shipman said in a statement.