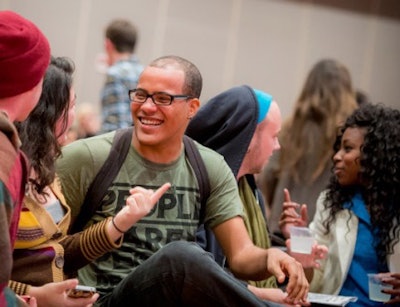 Almost one-quarter of University of California system students, staff and faculty members say they have personally encountered some exclusionary, intimidating, offensive or hostile conduct while on campus, and 9 percent indicated that such negative experiences had interfered with their abilities to study or work, a new university system survey says.
Last week's release of the highly-anticipated Campus Climate Study has provided important data on what officials describe as the UC system's most comprehensive effort ever to measure the social climate at its 10 campuses and major off-campus facilities, such as the Lawrence Berkeley National Laboratory. The study was based on roughly 104,000 responses from a survey pool of more than 386,000 UC students and employees asked between 2012 and 2013 to complete a 93-item questionnaire.
UC officials commissioned the study, which includes individual UC campus reports, as part of a campaign to promote tolerance and respect in the wake of a series of racially and ethnically charged incidents that include a KKK hood and noose being found at UC San Diego in 2010, complaints about bias from UCLA faculty and staff in 2012, and ongoing tensions between Palestinian supporters and Jewish students at a number of schools.
"We seek to create and nurture in every corner of the University … an ethos of respect for others and inclusion of all. Such an ethos need not undermine the spirit of free speech and acceptance of differing ideas and attitudes that have long been the University's hallmark," wrote UC President Janet Napolitano and other UC leaders in a letter introducing the survey results.
While University of California (UC) officials expressed concern that a significant proportion of the university system community had encountered incidents of discrimination and intolerance, they took satisfaction in the finding that 79 percent of "survey respondents were comfortable or very comfortable with the campus climate" at UC.
"Overall, the news is good. The survey results show that a large majority of respondents are satisfied with the overall climate at UC, and three-quarters of respondents said they're comfortable with the climate for diversity in their work unit, academic area, or clinical setting," the study summary says.
In other findings, 73 percent of undergraduate students, 78 percent of graduate students, and 56 percent of faculty and post-docs said they were comfortable or very comfortable with the climate in their classes. In contrast, 7 percent of undergraduates, 5 percent of graduate students, and 2 percent of faculty and post-docs reported they were uncomfortable or very uncomfortable.
The study indicates that underrepresented minority respondents reported being less comfortable with the overall climate and the workplace climate than were White respondents and other people of color. White respondents indicated that they were more comfortable with the climate in their classes than were other racial groups, according to the study.
In addition, a high of 8 percent of respondents overall indicated that they perceived African-Americans to be accorded the least respectful campus treatment among racial and ethnic groups. In second place, 6 percent of respondents said that Middle Easterners on UC campuses experienced the least respectful treatment. A high of 92 percent of respondents said campus climate was most respectful of Whites. Eighty-five percent of respondents pegged Asians and Asian Americans to experience most respectful treatment.
Dr. Darnell Hunt, a sociology professor and director of the Ralph J. Bunche Center for African American Studies at UCLA, described the push by UC system leaders to launch the Campus Climate Study as a much-needed initiative "that should have been done a long time ago." He recalls that at UCLA a number of incidents involving the harassment of minority students and faculty members have called into question whether university officials have been doing enough to build a more tolerant and respectful campus community.
While Hunt praises the study, including the individual UC campus reports, as "a good first step," he would have liked it to have included qualitative elements, such as focus group research, for additional depth and analysis. "I recall taking the survey myself and feeling that it left me wanting more," he says.
"I would have preferred more a mixing of methods—a combination of quantitative survey items along with focus group data and other types of qualitative data that really get at the nature" of the conflicts and campus tension around race and ethnicity, Hunt explained.
"In many ways, the survey findings raise more questions than they answer. I think now the task is trying to figure out what the numbers mean and what type of work needs to be done," he notes.
In addition to releasing the Campus Climate Study, UC officials last week issued a report outlining the progress of the Civil Disobedience Initiative (CDI). The CDI has focused on implementing recommendations from the Robinson-Edley Report around UC's response to campus protests and civil disobedience. The Robinson-Edley Report was undertaken following the much-publicized physical conflicts erupting between police and protesters during demonstrations at UC Berkeley and UC
Davis in November 2011.