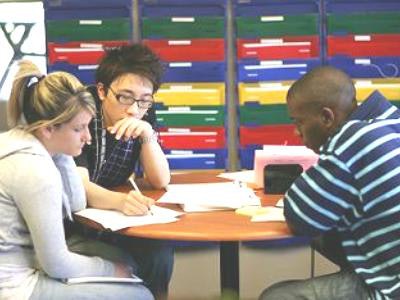 When it comes to getting through two-year colleges, individual ability is key. But when it comes to four-year colleges, the likelihood of earning a bachelor's degree is more strongly related to the abilities of the group.
That's one of the key findings of a new study titled, "A New Measure of College Quality to Study the Effects of College Sector and Peers on Degree Attainment."
"In determining bachelor's or any degree attainment, students' own ability is relatively more important in the two-year sector, while peer ability is relatively more important in the four-year sector," states the study, written by Jonathan Smith, a policy research scientist at The College Board, and Kevin Stange, a public policy professor at the University of Michigan.
"One interpretation is that individual traits ― such as the ability to navigate a complex transfer process or balance school with other commitments ― are more important in the two-year setting, which has less structure and institutional support," the study states. "By contrast, peers help serve that role at four-year institutions."
Regardless of the explanation, the authors say the finding "suggests that the nature of the production process is different across sectors."
The study adds to the well-established body of literature that delineates disparities in degree attainment between the two- and four-year sectors. The authors find, for instance, that recent high school graduates who start at four-year colleges are roughly 50 percentage points more likely to earn a bachelor's degree within six years than those who begin at two-year colleges.
But the study seeks to drill down on the underlying factors as to why those disparities exist. Namely, it seeks to determine whether those disparities arise from the lack of selectivity in the admissions process at community colleges; the challenges associated with the transfer process; or whether students at two-year colleges simply have "traits or intentions that make them less likely to complete degrees than those starting at four-year colleges."
The researchers relied on data on the reading and math scores of the PSAT — the qualifying test for the National Merit Scholarship — of PSAT takers who graduated from high school from 2004 through 2006. They also examined average PSAT scores of students living within close proximity to colleges, as well as the average PSAT scores at the colleges themselves.
"Community colleges whose local student population is high achieving also tend to attract high-achieving students," the study states, emphasizing that not all community colleges are the same with respect to average peer ability.
They also found that two-year colleges located far from four-year colleges tend to attract higher-ability students.
"Average student ability is also higher at two-year colleges that have fewer nearby competitors (both two- year and four-year) within 25 miles," the study states. "Two-year colleges that compete against more four-year colleges for students, by contrast, attract students of lower average ability."
Distance and density of schools by sector also influenced college choice, the study found.
"Students attending high schools with high achieving peers or whose community has many college graduates are much more likely to attend four-year colleges," the study states. "Students who live closer to a two-year college are more likely to attend two-year college, while the opposite is true for those living near more four-year colleges."
The study also found evidence of "assortative matching between colleges and students."
"Higher-achieving students tend to attend college with other high achieving students," the study found. "Underrepresented minorities attend colleges with lower-achieving peers, even after controlling for own achievement."
More capable students tend to start at four-year colleges, the study found.
The researchers say their findings have implications for understanding college choice and policy. They say student decisions on where to enroll are "even more nuanced than is typically discussed."
"The quality of the two-year college, as measured by average PSAT scores, matters, perhaps as much as it does for four-year colleges," the study states. "Thus, students may not want to consider their local two-year college as the only alternative, but rather, carefully weigh it against the four-year options and even other two-year options, which may be more distant."
The researchers also caution that policies such as "free community college," which incentivize enrollment in two-year over four-year colleges, might actually lower some students' chances of earning a bachelor's degree, although they say it depends on "relative college qualities a student faces."
Jamaal Abdul-Alim can be reached at dcwriter360@yahoo.com. Or follow him on Twitter @dcwriter360.