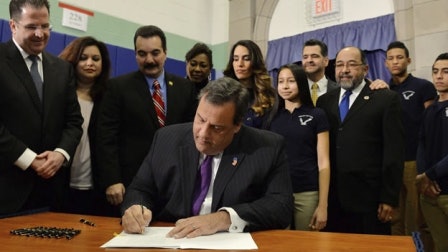 UNION CITY, N.J. — In a move lauded by some and denounced by others, New Jersey Gov. Chris Christie publicly signed legislation that now allows the children of immigrants who came to this country illegally, to pay in-state tuition at the state's colleges and universities.
The bill, which Christie privately signed into law back in late December so it would go into effect in time for the Spring 2014 semester, will grant in-state college tuition rates to undocumented high school graduates who attended a New Jersey high school for at least three years.
"You're an inspiration to us because in you we see all that our country can be," Christie told hundreds of students who gathered in the gym at Colin Powell Elementary School in Union City, N.J. "In you we see, most importantly, infinite possibilities of the human spirit."
Political observers say that Christie's support for the state version of the DREAM Act is a sure sign that he is mulling over a presidential run in 2016, and needs Hispanic support if he is to emerge as a clear front-runner.
"Christie's signing puts him on the right side of history — and likely a 2016 general election electorate — but on the wrong side of GOP base and presidential primary voters and prospective GOP candidates," says Dr. Doug Muzzio, who is a professor in the School of Public Affairs at Baruch College. "If the GOP doesn't do something to attract or at least not repel immigrant votes … it will suffer a demographic death."
Christie threw his support behind the legislation shortly before his re-election efforts, but only after he vetoed a measure that would allow students to be eligible for New Jersey financial aid packages.
"On one hand, this reflects a hard-earned victory for those who have been pushing for this for a decade," says Dr. William Perez, an associate professor of Education at Claremont Graduate University and an expert on the issues that impact immigrant students. "But it's also a disappointment to some, because it is a watered-down version of the initial legislation."
Perez says that he would not be surprised, as 2016 draws nearer, if Christie later reversed his position on financial aid for these students, particularly as more states move forward with aggressively championing the DREAM Act across the country.
"The momentum has picked up at the state level," says Perez. "Undocumented immigrants are already contributing to the state's economy in many ways."
It was no coincidence that Christie signed the legislation in Union City — directly across from Manhattan — a struggling metropolis that is populated primarily by Hispanics.
"We know that when we bring people together, when we work together despite some of our differences, that we also set an example of optimism for every one of the 8.9 million people who live here," Christie said. "Unlike what happens in Washington, government can actually work for you, that things can actually get done, that agreements can be reached, and that commitments can be kept."
Perez and others say that the legislation would impact students immediately. In-state tuition at public New Jersey colleges and universities is as much as $15,000 cheaper than the out-of-state cost.
Despite his obvious attempt to shore up support among Hispanics, Christie also tried not to alienate Republicans who remain deeply opposed to such legislation and who he will need if he becomes the Republican nominee in 2016.
"We live in a world where people believe compromise is a dirty word," Christie said. "We all have principles that we want to stand up and fight for. But then I believe the obligation of anyone who is the governor of a state, or those members of the legislature elected by their constituents, they have an obligation to sit in a room around the table and advance the interests of the people who gave them these jobs in the first place."
Martin Perez, the president of the Latino Leadership Alliance of New Jersey, a coalition of Latino community leaders from around the state, applauds Christie for his support of the controversial legislation.
"Finally we have governor who made a commitment to us," he says. "The good thing about this governor is that when he makes his commitment, you have to understand that he will deliver the goods."
Jamal Watson can be reached at jwatson1@diverseeducation.com