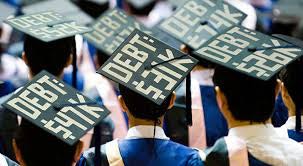 When Dawn Thompson went online a while back to research colleges that offered a degree in paralegal studies, a bunch of pop-up ads for Florida Metropolitan University (FMU) caught her eye.
"When you would click on an ad, it would bring you to an open chat thing where a representative would start chatting with you," Thompson recalled. "And then the phone calls started and they made it sound really good and the next thing I'm enrolled in the school."
That was back in 2004. Now, Thompson has a bachelor's degree in paralegal studies from the old FMU, which has since changed its name to Everest University to reflect its affiliation with the Everest campuses once owned by the beleaguered Corinthian Colleges, Inc.
But she says her bachelor's degree in paralegal studies, which she earned in 2011, is not worth anything in the job market.
"Every time I've applied for a paralegal job they'll ask me where Everest University is and I tell them," Thompson said in an interview with Diverse. "And they don't really say anything but I never get hired."
Thompson, 49, a bank teller who lives in Athens, Illinois, says her most recent job denial letter — this one for a legal secretary position with the Illinois Attorney General's Office — came in the mail just the other day.
She is about $100,000 in debt for her bachelor's degree — about $10,000 of it in high-interest private loans, but the bulk of it owed for federal student loans. And she doesn't intend to pay it.
Thompson is part of a new student loan protest group — which claims about 1,900 members — called The Debt Collective.
Members of the group are "striking" on their loans for tuition paid to Corinthian Colleges, Inc., which owned Everest Colleges until Corinthian, once one of the biggest for-profit education companies in the nation, was acquired recently by ECMC Group, a student debt collector. The sale came amid accusations by federal regulators that Corinthian was misleading students about their likelihood of getting a job and inducing students to take out its high-cost private student loans, known as "Genesis loans," to cover inflated tuition prices.
Among other things, a lawsuit filed by the U.S. Consumer Financial Protection Bureau alleges that Corinthian "lured tens of thousands of students to take out private loans to cover expensive tuition costs by advertising bogus job prospects and career services … then used illegal debt collection tactics to strong-arm students into paying back those loans while still in school."
Zenith Education Group, a newly created nonprofit career training provider and a member of ECMC Group, plans to operate the Everest schools as nonprofit schools.
Thompson says she shouldn't be made to pay back her federal loans for her education at Everest because she was misled about a degree from the school leading to a job. She says she is aware that her participation in a loan strike could potentially lead to bad credit, wage garnishment and the like, but that she doesn't care about the consequences.
"I'm to the point where I don't care because I feel like in any other kind of business, you pay for quality services, and when you don't get what you're told you're gonna get, you get your money back," Thompson said.
Thompson is further upset at how the new owners of Everest have set up a "Student Choice" program to provide debt relief to some current and former Corinthian students, and are helping those in the paralegal program — which is among several that are closing — transition to other programs or withdraw and get a refund.
"They don't care about us," Thompson said. "That just makes me mad. It's not right. It's like we're shuffled under the rug."
Thompson is also upset over the fact that she never needed a bachelor's degree for a paralegal job in the first place. Indeed, the U.S. Bureau of Labor Statistics' Occupational Outlook Handbook says the entry-level education requirement is an associate degree.
"Most paralegals and legal assistants have an associate's degree or a certificate in paralegal studies," the handbook says. "In some cases, employers may hire college graduates with a bachelor's degree with no legal experience or specialized education and train them on the job."
Efforts to get a response from ECMC were not successful.
The U.S. Department of Education recently offered $480 million in debt relief for current and former Corinthian students, but Thompson is not among those eligible for the relief.
The department has also indicated that it is "carefully considering" extending debt relief to students such as Thompson.
Thompson is currently enrolled in an online master's degree program in justice studies at the University of Southern New Hampshire. But she says she has exhausted her federal loans to the point where she may not be able to complete her current studies.
She blames Everest for making her spend her federal student loans on a worthless degree.
"I feel like we were wronged," Thompson said.
"They lie. They cheat. They rob people for their financial future," Thompson said. "And they need to be held accountable for it."
Laura Hannah, an organizer with the Debt Collective, says it's a contradiction for the Consumer Financial Protection Bureau to be suing Corinthian on the one hand, and for the U.S. Department of Education to expect students who went to its colleges to pay back the federal loans they took out to attend Corinthian schools.
Referring to Corinthian's schools, Hannah said, "How can one arm of the federal government say [the students] should pay while the other arm is punishing them?"