The gap in kindergarten academic readiness between high- and low-income families narrowed by at least 10 percent between 1998 and 2010, marking a sharp reversal of a troubling, decades-long trend.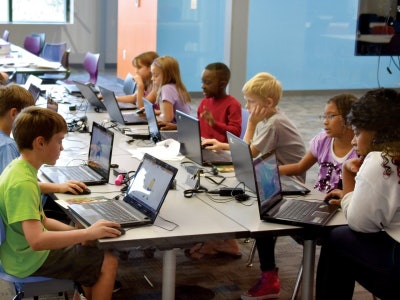 During this time frame, the White-Hispanic kindergarten readiness gap and the White-Black gap each dropped, too.
Academic researchers attributed the improved preparedness, in part, to low-income parents spending significantly more time reading to their children, taking them to museums and introducing them to educational games on computers. Many experts advocate early intervention in terms of policy and resources to close the readiness gap as a means of yielding major improvements in cognitive, academic and social outcomes.
However, researchers also cautioned against becoming overly optimistic. Despite the narrowing of these readiness gaps, they remain large and, in fact, progress is so slow that at the rate that improvements are occurring, it will take at least 60 years for disparities to be eliminated.
These are among the findings in a pair of new studies published last week in the current, quarterly issue of AERA Open, a journal of the American Educational Research Association.
In one study, titled "Recent Trends in Income, Racial and Ethnic School Readiness Gaps at Kindergarten Entry," the authors noted that, over the past 20 years, the academic achievement gap for cohorts of children born in the mid-1970s and mid-1990s had grown by about 40 percent.
For their study, researchers compared and contrasted the reading, writing and math skills of about 17,000 students who entered kindergarten in 2010 with those of about 20,000 counterparts from 1998. To examine the income gap, the researchers focused on students from families in the 10th and 90th percentiles of this country's income distribution.
Because income inequality and segregation by income have continued to rise during the 2000s, the authors expected that the school readiness gap would grow, too. But to their surprise, the gap narrowed.
"This suggests that the income achievement gap is malleable (and) can be reduced," they said.
The study was conducted by Dr. Sean Reardon, a Stanford University professor of poverty and inequality in education and Dr. Ximena Portilla, a research associate at MDRC, a nonprofit education and social policy research organization.
Reardon and Portilla found that, between 1998 and 2010, the White-Hispanic kindergarten readiness gap dropped by about 14 percent. The White-Black readiness gap for this age group appeared to have narrowed as well, but the researchers said the margin of error was too wide to make such a conclusion with certainty.
Unlike income achievement gaps, the racial academic achievement gaps have declined significantly over the past four decades, the researchers said, so the recent narrowing of the racial readiness gap among kindergarteners is merely a continuation of the trend.
Furthermore, it was not clear, they said, to what extent the gaps have narrowed because of improvements in school readiness among low-income and Black and Hispanic children or due to declines in readiness among higher-income and White children.
The researchers noted that another set of data indicate that the White-Black and White-Hispanic gaps in fourth-grade test scores likewise narrowed between the same cohorts of youth. Because no information was available about the family income of the fourth-graders, it was not known what had occurred pertaining to income achievement gaps.
Nevertheless, racial academic achievement gaps in fourth grade fell at roughly the same rate as kindergarten entry gaps, Reardon said, adding, "This suggests that the primary source of the reduction in racial achievement gaps in fourth grade is the reduction in kindergarten readiness gaps, not a reduction in the rate at which gaps change between kindergarten and fourth grade."
The second study is titled, "Socioeconomic Gaps in Early Childhood Experiences: 1998 to 2010." It focused on the experiences of kindergarteners during that timeframe using two nationally representative data sets.
Researchers found that children in the later period engaged with their parents more inside and outside of home, whether it was reading books and playing educational games on the computer together, or visiting museums and participating in other enrichment activities.
Although parental investment gaps were narrowing in the later period, they said, the school readiness gaps were still sizeable. This coincided with an unfortunate widening of socioeconomic gaps in preschool participation during this period — despite substantial investments in public preschool.
Reardon, who was also a co-author in this study, said the findings underscore the importance of public investment "in high-quality preschool to put children on even footing."
Furthermore, families need more opportunities and information "to provide cognitive stimulating activity" for children, he said.
The study was conducted by Dr. Daphna Bassok, a University of Virginia associate professor of education and public policy; Jenna Finch, a Stanford University doctoral student; Dr. RaeHyuck Lee, a Columbia University postdoctoral researcher; Reardon and Dr. Jane Waldfogel, a Columbia University professor of social work and public affairs.