PHOENIX — Ricardo Nieland, Jr., has had his fair share of setbacks. Several years ago, it was unclear if the second-year chemical engineering student would even be able to attend college.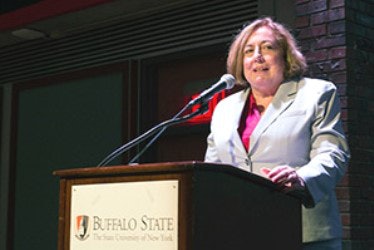 But Nieland — a first generation student at Arizona State University — is thriving, thanks to the support that he and his family have received from the American Dream Academy, an ASU program that works directly with high schools and parents to ensure that first-generation students are admitted to college.
Eager for her children to attend college, Nieland's mother "needed help. She didn't know what to do," to support her children's college aspirations, says Nieland. She enrolled in the American Dream Academy's eight week program and learned about everything from the FAFSA form to the PELL grant.
Nieland's sister graduated from college three years ago and is now a fourth grade teacher. She'll be returning to ASU soon to pursue a master's degree. His younger brother is a sophomore in high school and is beginning to think about his college career.
"I don't feel too lost," says Nieland, who is among the growing number of first-generation Latino students who are enrolled at ASU. "As a first-generation college student, I feel like I'm getting the support I need to be successful."
Catering to the needs of first-generation college students — a large percentage of whom are low-income and minority — was the focus at the Education Writers Association's seminar "Accelerating Innovation: New Ideas for Colleges & Newsrooms," that took place at ASU over the weekend.
"There are first generation students everywhere," says Maureen Hoyler, the president of the Council for Opportunity in Education. "These are not new issues. They are really longstanding concerns."
Hoyler says that the challenge for first-generation college student is directly related to the stratification of the higher educational system in the U.S.
"Advocacy and public will is really the big issue," says Hoyler, who adds that the plight of first-generation college students should be made a priority, particularly as colleges struggle over how best to retain their students from year to year. "Institutions are not going to change, unless they are pressured to change."
Audree Hernandez, regional program director of College Advising Corps has been working to increase college access for first generation, low-income students for years. Her organization currently serves more than 160,000 high school seniors in 15 states across the country.
Once these students gain access to college, they have to figure out how to "navigate the system," says Hernandez.
While many schools like ASU have been intentional in recruiting first-generation students, Hoyler said that other institutions — both public and private — should commit more resources to admitting and graduating students who fit into this demographic.
"You can't let people fall through the cracks," says Hoyler, whose organization has been a fierce supporter of TRIO programs, like Upward Bound. "Money is always going to be an issue for first-generation students bit you have to be able to have resources that people can turn to."
Thanks to a scholarship, grant and some loans, Nieland only had to pay $1,200 each semester to cover the cost of living in the dorms during his first year at ASU. This year, he has decided to commute, even bringing his lunch to campus from home to cut down on extra spending costs.
Determined to graduate, Nieland has opted not to work, as many first-generation college students do.
"I am just focusing on school right now," he says with a smile.
Jamal Eric Watson can be reached at jwatson1@diverseeducation.com. You can follow him @jamalericwatson