Dr. Mickey L. Burnim, the Texas-born educator who helped Bowie State University rise in presence among Maryland's state-controlled colleges and universities, has advised the university's community family he will retire next June after 10 years as the university's president.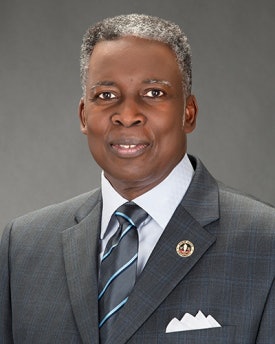 Burnim, who has lead the university's moves to boost enrollment and student success, made his announcement as the university was celebrating a year in which it graduated its largest-ever class — 1,180 students — and this month said it has enrolled its largest freshman class ever ― 950 students for the 2016-17 school year.
The university has a $121 million dollar budget for this school year to serve some 5,640 students.
"The time has come for me to transition to spending more time enjoying my family, and serving higher education in a more focused and limited way," says Burnim, who has marshaled the suburban Washington, D.C.-institution through its periods of good times and bad.
Burnim says he looks forward to spending more time with his wife of 46 years, LaVera, and the five grandchildren of their two adult children.
The Bowie State president's departure comes without the drama that has surrounded the exits of more than a handful of Burnim's peer presidents of historically Black colleges and universities. Several in recent months and years were nearly overnight departures, surrounded by questions from those institutions' supporters and advocates that often went unanswered by university trustees.
Burnim says there's no drama in his case. He plans to spend the rest of his time in office trying to raise $1.5 million or more to fund the university's first chair, working with the University of Maryland Baltimore County on a proposed training program for a cybersecurity national workforce and establishing an office for international programs.
As for being involved in selecting his successor, he says the university system's board of governors will handle that job and he does not expect to be involved beyond preparing a transition fact book for whoever is chosen to succeed him.
Burnim's retirement was noted by colleagues across the nation.
"He was a very good president," says Dr. William Harvey Jr., president of Hampton University and chairman of the White House Initiative of Historically Black Colleges.
"He had a moral compass and was management emphasis-focused," said Harvey, a university president for more than 38 years and the White House HBCU advisory chair for nearly a decade. "Those traits are important in any leadership role."
Closer to home, Bowie alumnus John Word, who just ended a four-year stint with the Bowie State University Alumni Association, says Burnim's planned departure comes at a time when the institution is "on an upward trajectory."
"I think the world of Dr. Burnim," says Word, who retired last month from his career in education as a public high school administrator. He noted Burnim's success in boosting enrollment and graduation rates and overseeing a multimillion-dollar grounds improvement during his tenure, including construction of three new major buildings, the last ― a science and nursing center — to open this spring.
Asked if he knew of Burnim's post-presidency plans, Word said, "I heard him say once he'd never stop working." Burnim was mum on the subject.