2023 Award Recipient
Dr. Steven Gonzales is the recipient of the 2023 Diverse Champions Award -- read the article here.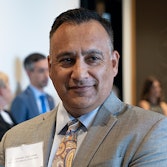 More about the Diverse Champions Award
The award was created by Diverse: Issues In Higher Education in 2012 upon the retirement of the inaugural Diverse Champions Award winner, Dr. John E. Roueche, as director of the Community College Leadership Program (CCLP) at the University of Texas at Austin. Of the more than 500 CCLP graduates produced during his 40-plus year tenure at CCLP, more than 60 percent are women and people of color.
The Diverse Champions Award is given to individuals who have made similarly extraordinary contributions to the world of higher education.