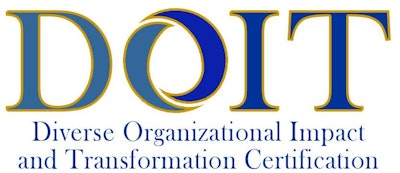 The DOIT Certification Benchmarks Progress Toward Institutional Transformative Diversity Leadership

The DOIT (Diverse Organizational Impact and Transformation) Certification is a transformation-focused method to certify an institution's progress on diversity and inclusion. It measures an institution's progress on diversity and inclusion by learning what it is doing – or not doing – to transform everyday experiences for students, faculty, and staff. As part of the DOIT Certification process, four surveys have been designed to measure intentionality regarding a university's performance in four areas. The areas are collectively referenced as Institutional Pillars for Transformation (IPTs):

Pillar I

: Institutional Leadership & Commitment (ILC)

Pillar II

: Institutional Curricular & Co-Curricular Accountability (CCT)

Pillar III

: Institutional Climate (IC)

Pillar IV

: Institutional Representation/Composition (RD)
Each IPT addresses institutional behaviors and associated behavior frequencies. A Pillar Indicator Map (PIM) is used to assess an institutions' commitment to each IPT using a Likert scale that places institutions on the continuum from idle to advanced performance levels of transformative diversity leadership. Future stages towards certification will require supporting documentation for the IPT survey responses that place institutions at specific levels.

Earning a DOIT Certification means an institution has developed, maintains, and continuously improves its diversity and inclusion infrastructures. Watch for more information about how your institution can participate in the certification process. It's imperative for universities to take the lead on DEI.


Learn about the
DOIT Certification
in a
Diverse
In the Margins
Podcast
Listen here