Grand Valley State University earns DOIT certification.
By Lois Elfman
Following up plans for educational access and equity with actions has become the hallmark of Grand Valley State University, which has a statewide presence in Michigan.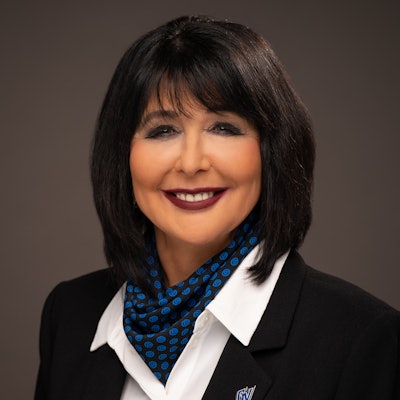 After the death of George Floyd in 2020, Dr. Philomena V. Mantella, president of Grand Valley State. The university with three campuses and five centers issued and completed a 15-point plan for racial equity as a clear statement on providing foundational knowledge around diversity, equity, and inclusion (DEI) and emphasizing commitment to the university's values.
"We've instituted an all-employee DEI training," says Dr. Jesse M. Bernal, chief of staff to the president and vice president for inclusion and equity. "It's an online module that we released earlier this year to all our faculty and staff as required training. It was also incorporated into all our new employee/new faculty orientations.
"The last piece we're now launching is around structural changes," he continues. "All of our divisions and our colleges are now appointing DEI leads and liaisons who are going to work with their vice president or deans around some part of our commitment to inclusion and equity and also convene with each other to set the university strategy moving forward."
Undergraduate education
One of the commitments began expanding undergraduate education to make sure all students experience courses or curriculum related specifically to racism and racial equity, which was approved last fall by the general education committee and the provost.
The Higher Education Data Sharing Consortium, which is leading the analysis, administered the campus climate survey in November 2021. There was a recommendation to have focus groups beginning this fall with diverse populations of staff, faculty, and students to capture their stories.
"We'll continue to do that throughout this year and also disaggregate the data at the division college level to allow for more local responses and action," Bernal says.
An initiative that began during the pandemic is pulse surveys. "Getting out with key questions at key moments in time," says Mantella. "When the senior team identifies issues, and also when we're seeing them within our student government or president's council, the council is intentional about what we call a slot analysis. What are we seeing? What is emerging that we're unaware of? To test some of that, we may use a pulse survey to really dive a little deeper."
Grand Valley State runs the most TRIO Programs (federally funded educational outreach) in Michigan. Mantella also wants to improve the pathways for students attending community colleges. "We have good transfer agreements," says Mantella. "We also reverse transfer, which means…we will send their credits back to be counted should a credential get awarded as they continue on at Grand Valley."
There are also efforts to reach approximately two million people in Michigan who have some college credits but still need to earn a degree. Mantella says Grand Valley State works on creating modalities in which these individuals can achieve their goals.
Community involvement
"We are trying to be more ingrained in the community and serving the community in Southeast Michigan, but also increasing the pipeline to not just Grand Valley, but all four-year institutions," Bernal says. "We have some new hybrid programs that are being run at our Detroit center. We do a lot of community-based events and workshops out of our center in Detroit."
Partnerships with external organizations and local governments have strengthened over the past two years. Dr. Chasity Bailey-Fakhoury, an associate professor and director of engagement for educational and community innovation, an incubator that works with traditional and non-traditional partners inside and outside of Grand Valley State to improve outcomes in higher education and in the K–12 workforce.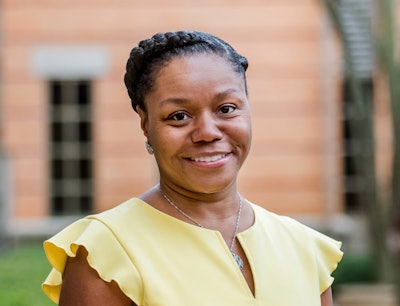 "We're trying to help scale ideas that we think are going to have great efficacy," says Bailey-Fakhoury. "In my role as director I go into the community, learning the aspirations of the community and figuring out ways that the Co-Lab and the university can align our mission to help serve the aspirations of the community. Seeing how the university can leverage our resources to help further advance the work of different community partners, organizations, schools and school districts so that we're all in this trying to create a better community life for everyone."
In 2020, Mantella created a network of racial equity advisors focused on the experiences of Black staff, faculty, students, and alumni. "I'm a proponent of having broad ownership, particularly in the area of diversity, equity and inclusion," says Mantella. "They continue to refine and prioritize the work."
Bernal meets approximately weekly with equity advisors and Mantella and the university's senior leadership team meet with them as a group each semester. A faculty fellow takes part in the president's council and meets with Mantella monthly.
Another member of the team is Dr. Alisha Davis, allied health sciences program director in her second year as a presidential fellow for inclusion and equity as well as co-lead for the network of advisors. "We're looking at how we create this inclusive and equitable environment using a social justice platform in order to positively impact various populations on campus," says Davis.
Davis notes that there are seven initiatives in the pipeline for which implementation plans are currently being created. These include professional development, creating leadership opportunities and making sure that the climate on campus creates a sense of belonging and acceptance for all.
Many of the students in Davis' program currently work in hospitals or other healthcare settings. "We have hybrid classes and in-seat classes that are designed to be able to accommodate students in a way that meets their needs," she says. "Next year we'll start a limited number of online classes as well."
Collaborative effort
Even before the pandemic, courses covered healthcare disparities, such as social determinates of health, but students' experiences in the early months brought a slightly different focus.
"Students had more of that tangible piece…because they were experiencing it," Davis says. "I was already doing work on implicit bias, microaggressions and racism in healthcare. [The pandemic] caused me to focus a little bit differently on those concepts, definitely bringing in statistics on barriers to care and the deficit in patient outcomes.
"We try to create spaces within our program…to have conversations about race, diversity and inclusion, making sure we are providing the best, most equitable conversations in the classroom [that] we can," she adds.
In June 2022, Grand Valley State hosted the first Black Boys and Men Symposium, a national convening of administrators, policy makers, K–12 educators and community leaders who work with students of color, particularly those who identify as Black and male. They explored issues around success and access and how institutions can better serve the population. About 300 people from around the country participated in the two-day event.
The university launched "Reach Higher 2025," a new strategic plan approved by the board of trustees with three components: educational experience, lifetime learning, and educational equity. The Grand Valley Pledge is also a new commitment that anybody in the state of Michigan who graduated from a Michigan high school and whose family makes less than $50,000 per year can come to Grand Valley State tuition free. After filing the FAFSA, the university will back end the federal student aid with university support.
Presently, Grand Valley State has partnership agreements with five historically Black colleges and universities. If students at those institutions want to pursue a graduate program not available at their college or university, they may do so at Grand Valley State using two-plus-two or three-plus-one programs where they earn a bachelor's degree at their home institution and then a master's degree or second bachelor's degree at the university.
Those opportunities for partnerships will likely increase as Grand Valley State develops new programs to reflect the digital economy, artificial intelligence and robotics.
"We continue to focus on content and areas that are really important — applied medical devices, different versions of informatics and computer science," Mantella says. "The three components of [Reach Higher 2025] are going to continue to be our guide and we're going to do them very well, with a lot of innovation and a lot of connection to those we serve and those we should be serving at a higher rate."
Bailey-Fakhoury says univeristy leadership is truly committed to DEI work but is honest in noting there is a lot to do. In the College of Educational and Community Engagement she hopes to see more work around recruiting and retaining BIPOC students who will become teachers. She says professors cannot hold back in preparing education students to be teachers aware of racism, sexism, classism and xenophobia and developing anti-racist pedagogy. 
"It's important to have a president who sets the tone for the work," Bailey-Fakhoury says. "It makes faculty, staff and students feel that we're going to help the university meet its aims and goals when it comes to issues around diversity, equity, inclusion, and accessibility. That's the framework that we really use."