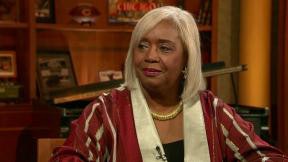 WASHINGTON — Dr. Darlene Clark Hine—a pioneering scholar in the field of African American women's history—was among a group of individuals awarded the 2013 National Humanities Medal yesterday at the White House by President Obama.
Hine, who is currently the Board of Trustees Professor of African American Studies and Professor of History at Northwestern University, was recognized by the White House "for enriching our understanding of the African American experience. Through prolific scholarship and leadership, Dr. Hine has examined race, class, and gender and shown how the struggles and successes of African American women shaped the Nation we share today."
The award recognizes work in history, cultural studies, filmmaking, cultural commentary and historic preservation.
Prior to her arrival at Northwestern University in 2004, Hine spent most of her academic career at Michigan State University where she held the John A. Hannah Distinguished Professor of American History.
"I have devoted the last four decades to excavating the past — trying to find records and documents and stories from those who are not ordinarily included as significant participants in the making of America," Hine told the Weinberg magazine, a publication produced by Northwestern's College of Arts and Sciences. "Part of my obligation as a professor is to share what I've learned not only within the University, but also with people outside the gates, from all different walks of life."
In addition to authoring and editing more than a dozen books, Hine served as president of the Organization of American Historians from 2001 to 2002 and has mentored a number of younger scholars who have gone on to expand African American women's history.
"Dr. Hine's scholarship has enriched American history by vastly expanding the historical view of African American women," said Dr. Stephanie Y. Evans, chair of the African American Studies, Africana Women's Studies, and History Department at Clark Atlanta University. "Equally important, her leadership among a vast community of scholars through prolific investigation has provided a rich path for all to follow. She is at once a critical scholar and a kind-but-engaging mentor. Her Presidential honor is well deserved and infinitely inspiring."
Filmmaker Stanley Nelson, who produced the award-wining documentary on the Black Press called Soldiers Without Swords, was also honored at yesterday's ceremony. Nelson was awarded $600,000 from the National Endowment for the Humanities to produce a two-hour film called Tell Them We Are Rising: The Story of Historically Black Colleges and Universities.
Jamal Watson can be reached at [email protected]. You can follow him on twitter @jamalericwatson