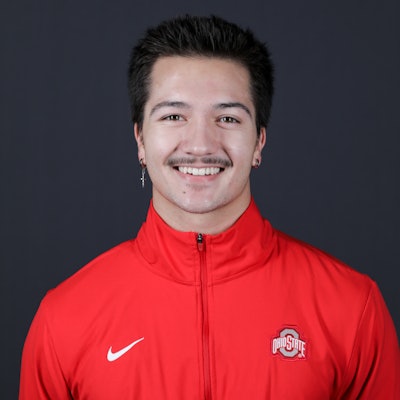 School: The Ohio State University
Year: Senior
Major: Spanish


What drives diver Lyle Yost? "He loves to learn," says Justin Sochor, head diving coach at The Ohio State University. "He's reading books, he's asking questions. He has a thirst for information and new challenges mixed with a love for life and adventure. That's why he excels in diving."
This spring brought a major victory for Yost, becoming NCAA Champion in the 1-meter springboard. Although the much-decorated diver — who has been named the 2023 Arthur Ashe Jr. Male Sports Scholar of the Year — already received CSCAA First Team All American honors in the 1-meter, 3-meter and platform over the course of his collegiate career, achieving his first NCAA title brought confirmation for his years of hard work.
"Over the past couple of years, we've been working so hard with not just the goal of doing well at the NCAAs or at the Big Ten Championships or at USA Diving meets or international competitions," says Yost, the 2023 Arthur Ashe Jr. Male Sports Scholar. "It's really that we've been working to get better one day at a time. What happens when you do that is the results take care of themselves."
Yost has been competing with USA Diving since his teens, qualifying for his first international meet at age 14. His immediate goal is to earn a spot on the U.S. team for the 2023 World Aquatics Championships and the long-term goal is competing at the next two Olympic Games. To ensure his best shot at the 2024 Olympics in Paris, he will be taking the extra year of collegiate eligibility available to him. He is graduating this spring and will next pursue a master's degree in education, specializing in world language education, with the plan of becoming a high school Spanish teacher.
"I want to use this sport to help me get out and see the world, have new experiences and be competing with the best of the best," says Yost, who has also achieved honors as Big Ten Conference Champion (platform), Big Ten All-Conference First-Team, Ohio State Most Outstanding Diver Award and Dale England Award for Most Inspirational Performance.
"He helps set the culture of the team," Sochor says. "He pays attention to his teammates and he leads by example."
Sochor says Yost readily adapts to studying and even taking exams during competition road trips. A three-time CSCAA Scholar All-American and member of The Ohio State University dean's list, Yost says competing internationally led him to majoring in Spanish. As a high school freshman, he competed in Cuba, and all around him people were speaking Spanish.
"It was a really beautiful thing I wanted to participate in," Yost recalls. "I wanted to be able to go to these meets and talk to people, make connections and friends, and have the best experience that I could. At that meet I found that passion for languages, and I set my goal of becoming fluent in Spanish."
His community service has included creating Buckeye-themed arts and crafts projects with students with disabilities as well as outreach with Dublin City Schools' PATHS program. He also works as a diving coach with a local youth team (ACES Diving) that practices at Ohio State and some pools in the Columbus area.
"Being able to work with these kids who I can be an example to—I can teach them, I can be a role model, I can try to transfer and show them my passion for the sport," Yost says. "A lot of these kids remind me of myself, the fire they have for the sport is inspiring. To watch them grow is really satisfying."
As he continues to pursue diving, Yost will also pursue a well-rounded life. "The passion for diving, for training for getting better is something that I cherish, but…for me it's all about having balance," he says. "That's when I'm the happiest."