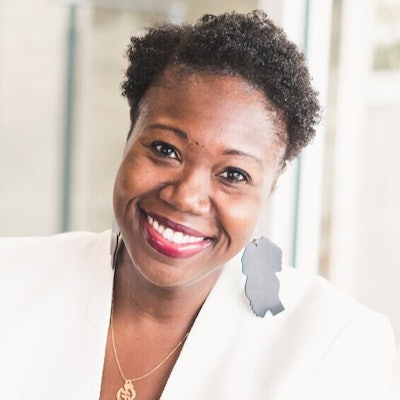 When Dr. Annice Fisher graduated from Harvard University's doctoral program in Education Leadership, she began working as an equity consultant, founding her own consulting firm to help schools, businesses, councils, and other organizations tackle the hard, necessary work of advancing equity.
Fisher has a gift-- the ability to fluently cross sectors and find creative and empathetic ways to promote change and growth. Now, Fisher is using that gift at American University (AU), where she holds the title of the school's first antiracism pedagogy scholar. Through Fisher's work and a deeply supportive leadership in the university's School of Education, AU is beginning the transformation of its entire pedagogy to be antiracist, building better teachers and leaders for the future.
The dean of the school of education, Dr. Cheryl Holcomb-McCoy, has been working to achieve schoolwide antiracist, equitable practices and policies since 2016. But the summer of 2020 and the wave of racial reckoning solidified an institutional support for Holcomb-McCoy's vision. While other schools and institutions were trying to figure out where to begin their diversity, equity, and inclusion work, Holcomb-McCoy had set AU ahead of the curve, according to Dr. Corbin Campbell, associate dean of academic affairs and associate professor in the School of Education.
"The entire school redoubled our thinking around how to do antiracism in everything we did," said Campbell. "Dr. Fisher has been a deeply important component of making a start on culture change across our school, and we've made significant, tangible strides due to the seeds that Dr. Fisher has been sowing."
Through Fisher's guidance, AU has created a new tenure promotion guide and new antiracist course assessments. Next on their agenda: updating hiring processes and admissions standards to be antiracist.
Before becoming the antiracist pedagogy scholar, Fisher was working at AU as an adjunct professor. She designed and taught Exercising Conscious Leadership, a course she purposefully built outside of traditional methods by "blowing up leadership as we know it" to talk about the work of women, people of color, and "the way leadership, equity, fear, doubt, healing, love, and the roles our families and community play in helping us become who we are," said Fisher.
Those core beliefs guide Fisher as she helps AU faculty develop antiracist policies and practices.
"Dr. Fisher is a truly committed, deeply knowledgeable expert about antiracism in practice," said Campbell. "She really sees how to move an organization forward. She helps us to see where we're being held up."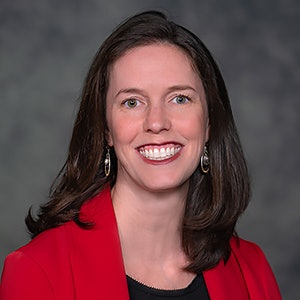 Campbell added that Fisher has helped her learn it is impossible to create change without self-interrogation being the first, vital step.
"Anytime that I feel like we're not going in the direction we need to go, we need to go back to the voices of Black students, faculty, and other faculty and students of color to hear what we're missing," said Campbell. "Those constant checks, to listen to the communities we're actually trying to serve, is so deeply important. If we're doing a good job, we affirm the voices of Black and Brown students in the classroom and also cause self-interrogation of students who haven't examined their biases."
The move toward antiracism takes time. Fisher describes her role as a mirror, held up to the commitments the school made, asking them if they are actually accomplishing their goals.
"Any role where you come in to be a mirror, there will be resistance," said Fisher, crediting her professors at Harvard for helping her to understand the psychology of change resistance.
Resistance comes from a place of fear and loss, Fisher says, adding that she always asks questions to get to the root of that fear and the loss.
"When I talk to someone and sense that I'm stepping on resistance to change, they show me those signs, I say, 'So, let's pause. What are you learning about yourself in this situation? Do you feel like this is pushing on your inherent beliefs?" said Fisher.
In her first year as the antiracist pedagogy scholar, Fisher has held workshops to discuss the concepts of disrupting racism in class discussions, student assignments, and ways to respond when someone says something "racist or inflammatory." She offers appointments for one-on-one meetings with AU faculty. These are her "antiracism coaching sessions."
"You can get on my calendar and talk about an issue you have in class, conflict with another faculty member, get advice to truly embed anti-racism into your syllabus," said Fisher. "It became spaces where people could be vulnerable. It was beautiful to see coaching as a part of what we do in higher education."
Fisher's role has already adapted and grown in response to the needs of the institutional community. In her second year, Fisher created workshops specifically for faculty and staff of color to come and share their experiences, feel safe, and heal. Fisher is also developing a similar workshop solely for white faculty to come and learn about the impact they can have on others.
Both Fisher and Campbell say that this work would be impossible to do without the full-throated support of Dean Holcomb-McCoy.
"My work in private sector helps organizations look at where racism is built into the written language and how they carry things out, so I spend a couple of months in each [AU] program looking for an inequitable hotspot," said Fisher. "Our ultimate hope is that antiracism is built into the fabric of what education looks like. Education, to me, disrupts inequity and brings justice."
Liann Herder can be reached at lherder@diverseeducation.com.