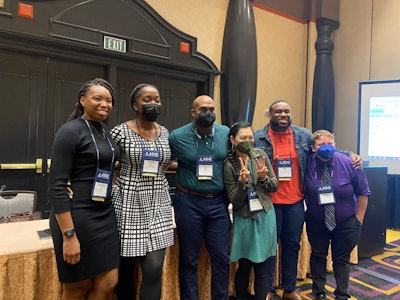 LAS VEGAS---
Dr. Emily Kyung Jin Suh began her presentation by asking the room to take a deep breath in and out.
"I want to bring us together, to experience this moment, to breathe in our collective humanity," said Suh, an assistant professor of curriculum and instruction at Texas State University. "Breathe out our tensions, our fears, our insecurities that we alone are not enough."
Doctoral student Sam Owen has taken courses with Suh. They said breathing at the top of class is a strategy Suh uses to bring her students together. Suh and Owen are studying ways to create transgender inclusive spaces in higher education, building community and amplifying joy through balance, radical inclusion, and radical love.
"What's at the core is justice," said Owen. "We conceptualize methods of sustaining community—creating, preserving, repairing community. It comes from engagement in struggle and willingness to be open. In your class, you create that community."
Suh and Owen shared their research on the second day of the Association for the Study of Higher Education (ASHE) Conference in Las Vegas. Hundreds of academics shared studies, some discussing the importance of Black joy. Others discussed whether or not federally designated Hispanic-Serving Institutions (HSIs) are meeting the needs of their Latinx students, as institutions grapple with the seeming dichotomy of being an HSI and also classified as a top tier research university.
These explorations underscored ASHE's overall conference goal: the humanization of higher education. Attendees came from across the U.S. to gather ideas, share information, and network with others who work to build equity and opportunity in the academic world.
In spring 2020, Leslie Uchenna Ekpe, a doctoral student in the higher educational leadership program at Texas Christian University, and Dr. Ezinne Ofoegbu, an assistant professor of educational leadership at Santa Clara University, worked together to explore how Black students were experiencing and pursuing happiness during the tumultuous time of the pandemic and social unrest. The pandemic exacted a disproportionate toll on Black communities, and the murders of Ahmaud Arbery, Breonna Tayler, and George Floyd ripped an already shaky foundation out from many.
"We need joy to survive, joy to breathe, and more specifically, Black joy," said Ekpe.
Ekpe and Ofoegbu studied commonalities in Black joy not just in the U.S. but around the world. They classified their findings into three unifying elements: songs of survival, utilizing creative outlets, and a renewed attention on the mind, body and soul. These recipes for Black joy, they said, counter the deficit model that so often accompanies Black stories.
"We posit that we can no longer teach Black history without teaching Black joy," said Ekpe. "Creative outlets, songs of survival—these trace back hundreds of years to our ancestors."
When Black joy may be missing from the classroom, Ekpe and Ofoegbu encouraged Black scholars and academics to make room for it in their own lives.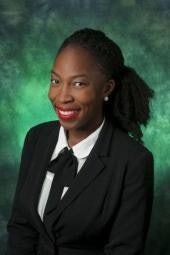 Creating campus environments and classrooms that fully support a student's experience can be extra challenging for institutions categorized as R-1, a top tier research institution as decided by the Carnegie Classification system. Dr. Veronica Jones Baldwin, an assistant professor of counseling and higher education at the University of North Texas (UNT), and UNT higher education graduate student Alexis Guess, presented data that revealed a potential conflict of interest for institutions that are designated as an HSI (meaning that at least 25% of their student population identifies as Latinx) and R-1.
"When we think about the institution of higher education, it's created a system that incentivizes focus on research outcomes. [Institutions] strive for R-1 status," said Baldwin. "The prioritization on research has an impact on other important concepts like access, equity and success for students of color."
By communicating with leaders at institutions that are both HSIs and R-1, Baldwin and Guess found that HSI status was valued for its potential economic contributions to research. HSI grants can be worth up to $250,000 over four years. These grants are given with the intent to be used to meet the needs of the Latinx students at the institution.
"The hyper fixation on R-1 allows some individuals to disconnect from being an HSI," said Guess. She and Baldwin encouraged R-1 or R-1 aspiring institutions to focus on the intention of serving Latinx students "as a bridge to create research opportunities for Latinx and minoritized students."
"Can we reimagine higher education to be places not harmful for students?" asked Guess. "How can we advance, change, think about justice and equity and not cause further harm to future students?"
Liann Herder can be reached at lherder@diverseeducation.com.