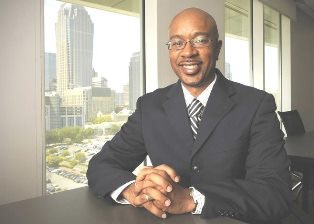 A new book titled African American Male Students in PreK-12 Schools is receiving national attention for its deep analysis of the pressing issues that Black boys face, as well as solutions for how education practitioners might best address some of these challenges.
Published in May by Emerald Press, the book's editors, Drs. James L. Moore III and Chance W. Lewis, collaborated on the project to "highlight those educational research practices, and policies that weakens school and life outcomes for Black males."
Moore and Lewis said that their book helps to explain "why existing education practices, policies and systems need a major overhaul in order for African American males to have a chance of succeeding in school and beyond."
The book, which includes a foreword written by David J. Johns, the executive director of the White House Initiative on Educational Excellence for African Americans, tackles a variety of topics from closing the social studies achievement gap for African-American males to creating a college going culture for Black males as early as middle school.
"We wanted to bridge the gap between the practitioners and the researchers," says Moore, who is the EHE Distinguished Professor of Urban Education, associate provost in the Office of Diversity and Inclusion, and director of the Todd Anthony Bell National Resource Center on the African American Male at The Ohio State University. "We wanted to be very aggressive with trying to articulate the challenge that Black males have throughout the pipeline. It's a passion for us."
Lewis, who holds the Carol Grotnes Belk Distinguished Professor and Endowed Chair of Urban Education at the University of North Carolina at Charlotte, said that by targeting the research to classroom teachers and education scholars, the book provides a "complete examination of what's going on with African American males."
Lewis, who is also the executive director of the Urban Education Collaborative at UNC Charlotte, said that he and Moore strategically chose a mix of emerging and seasoned scholars to lend their voices to the 394-page publication.
The book's release comes on the heels of President Obama's My Brother's Keeper, the White House initiative aimed at helping young men of color achieve their dreams. In November, Lewis' collaborative will also host an international conference on Urban Education in Montego Bay, Jamaica, where the plight of Black boys will be among the topics discussed at the two-day gathering that is expected to draw several hundred people.
For more information on the conference, visit: www.icue2014.org. For more information on Lewis and Moore's book, visit: http://books.emeraldinsight.com/display.asp?K=9781783507832.
Jamal Watson can be reached at jwatson1@diverseeducation.com. You can follow him on Twitter @jamalericwatson.