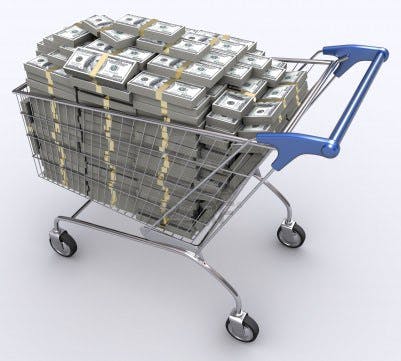 Minority groups — especially Asians — are flexing greater economic and educational muscle. Ethnic and racial minorities have attained buying power at a faster rate than their White counterparts, according to the 2013 Multicultural Economy report released last week by the University of Georgia.
Since 1990, the Athens, Ga., institution has conducted the statistical overview of buying power (the amount of income left after taxes, excluding savings) of African-Americans, Asians, American Indians and Hispanics. The report outlines where and how minority groups spend their money and highlights consumer trends.
Of the nation's total $12.4 trillion buying power, Hispanic consumers in the United States will command a $1.2 trillion market in 2013 (up from $1.1 trillion in 2012, a 6.2 percent rise) due to high birth rates, immigration and an increase in Hispanic entrepreneurship. African-American consumers will account for $1.1 trillion (up 4.5 percent), Asians will add $713 billion (up 6.2 percent) and American Indian consumers will contribute $96 billion (up 5.1 percent). Buying power for Whites increased from $10 trillion to $10.4 trillion (3.9 percent).
Such data has long been used by corporations, advertisers, manufacturers and the media to target these groups with products and services. It has helped businesses identify growth opportunities and targeting clientele more effectively. Now, such trends are signaling the importance of education as a contributing factor to increased buying power among minority groups. Education not only equips these underserved groups with the skills needed for higher paying, more stable jobs, but it also helps minorities overcome financial hardships.
Researchers cited educational attainment as one of the contributing factors of the Asian consumer market's significant growth following the recession. High levels of educational attainment shielded the Asian market from the recession and allowed them to take advantage of the economic recovery, explained Jeff Humphreys, author of the report. About 51 percent of Asians have a bachelor's or advanced degree compared to 31 percent of Caucasians, and 21 percent of African-Americans have a bachelor's degree or better.
"Having a college or advanced degree just provides the ticket needed to enter the occupations that are proven to be more resistant to recession," said Humphreys, noting that Asians were less likely to be in government, construction and other fields severely affected by the economic downturn. "Rising levels of educational attainment are benefiting all minority groups, but it has benefited Asians the most."
Buying reports also indicate the continued growth of minorities in the economy, positioning minority groups as entrepreneurs, job creators and influencers of the economy. The upward surge in buying power among minority groups mirrors that of the economy at large, so corporate America documents and responds to these rapidly changing trends with products and services to spur more spending.
But, for at least one economist and professor, the response should not be to throw more goods and services at minority consumers but to invest in these underrepresented segments of the market. Creation of more public policy designed to address the potential contribution of minority groups, especially those from areas of the country with the largest underserved but fastest growing markets, will help propel the economy and ensures the vitality of the country.
"It's no longer what happens to Asians, Hispanics or African-Americans; it's what happens to the economy as a whole," said Thomas Boston, an economics professor at the Georgia Institute of Technology. "We can't just assume that if we focus on growing the economy or policies in general, it will filter down to these other segments. If we neglect and under-invest in that segment then we under-invest in our economy."
Such targeted public policy and focus on growth should come from the academic community, which Boston says has been slow to respond to such trends. Political science and sociology departments have stayed abreast of such trends, but other academic disciplines have only responded marginally through marketing or programmatic activities, rather than through mainstream research agendas.
"Academic researchers need to shift their paradigm to understand that the country today is not the country it was 25 years ago," said Boston, founder and CEO of EuQuant, a consultancy that researches programs, businesses, markets and communities. "As the demographic landscape changes, the answers to questions like, 'What are the skills we need?' and 'Where will the jobs come from?' are altogether different."
In addition to their influence on the economy, consumer and buying power trends impact the questions being raised by the academic community, leading to more research and further driving public policy. They should become a part of the mainstream academic curriculum and agenda, he said.
"It doesn't matter that these segments are defined by race; their significant and potential contribution to the economy needs to be addressed," Boston said.