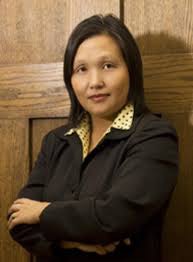 A startling 39 percent of U.S. Burmese are high school dropouts, so not surprisingly, 30 percent of this ethnic group lives below the poverty line, according to a new report.
Scheduled for release Wednesday, the report, titled "Invisible Newcomers," explores the educational attainment, socioeconomic challenges, migration and settlement experiences of the Burmese and Bhutanese, who make up the two largest, recent refugee groups in this country. The report's authors are Dr. Chia Youyee Vang, an associate professor of history and comparative ethnic studies at the University of Wisconsin-Milwaukee, and Dr. Monica Mong Trieu, an assistant professor of sociology and Asian American studies at Purdue University. It was issued by the Asian & Pacific Islander American Scholarship Fund (APIASF) in collaboration with the Association for Asian American Studies.
Since 2004, more than 80,000 Burmese have arrived in the United States after fleeing political, religious and economic persecution. Bhutanese refugees began coming in 2008 to escape discriminatory social and political rule. The migration of both ethnic groups grew so rapidly that, in 2011, refugees from Burma, which is also known as Myanmar, made up 30 percent and those from Bhutan comprised 26 percent of people resettled in this country.
Calling such statistics "alarming," Vang and Trieu say that intensive educational and social support should be provided to teens to improve the likelihood of high school completion. Furthermore, the dropout rate among Burmese Americans is almost twice that of the national dropout rate among non-Asians here.
Last summer, the APIASF hosted a panel discussion in Washington, D.C., titled "Enhancing the Adolescent Burmese Refugees' Access to Higher Education." The number of Bhutanese and Burmese applicants for APIASF scholarships has nearly tripled since 2011.
"With better information about the needs and experiences of these underserved communities, we hope to increase resources [for] the academic and long-term success of these students," says APIASF president and executive director Neil Horikoshi. He calls the report "the next step" to better inform policymakers, college leaders and other service providers about two growing communities that are "often overlooked."
The report offers statistics—such as from the U.S. Census and the Department of Labor—as well as observations from former refugees from Burma and Bhutan who are college-educated and now work to improve the lives of newer arrivals. Much of the federal data about Bhutanese generally isn't disaggregated from other Asian subgroups, so Vang and Trieu relied heavily on anecdotes for their research.
"Burmese Americans are faring worse than their peers along most indicators of socioeconomic measurements [including] education and income," the authors say in the report. "We, as a nation, are failing to meet the needs of the Burmese and Bhutanese community."
School attendance wasn't mandatory in refugee camps in countries such as Thailand and Nepal, where thousands stayed for years. At some camps, lessons consisted mostly of rote memorization rather than critical thinking analysis. Consequently, some immigrant teens don't know how to learn and struggle to even grasp the English alphabet, Vang and Trieu write.
Like newcomers from other parts of the world, elementary school children learn English and other subjects rather quickly. Teens, however, experience the most difficulties in school and often endure teasing and bullying from classmates for their foreign accents.
Vang and Trieu suggest that high schools train academic counselors in cultural competence about these refugee populations and step up after-school tutoring. Teens also need programs to ease their transition, especially in acclimating to American cultural norms and expectations.
APIASF's Horikoshi calls the 39 percent high school dropout rate "profound."
"There will be education equity challenges for these communities for a while," he says. "In many ways, this is about the history of America and how communities rise in time. It is also about the changing face of America."
Not surprisingly, adult refugees cannot give adequate academic help to their children in U.S. schools, the report states. Some adults are illiterate in their native languages because they grew up in rural areas of homelands where formal education was scarce. Without a background in formal schooling they have difficulty learning basic English, which is necessary to gain job skills.
Not all of the findings in the report are grim.
For example, 23 percent of Burmese Americans hold bachelor's degrees and another 8 percent have advanced degrees.
However, a lack of English proficiency hinders refugee access to social services, the report states. Some refugee caseworkers estimate that 90 percent of their work was translation services for new arrivals in areas such as banking, English as a Second Language classes, housing and domestic violence prevention. Authors Vang and Trieu suggest an extension in the length of time that adult refugees are eligible for ESL classes.
"A significant amount of work and resources are still needed to assist these two new communities, especially in the educational realm," Vang and Trieu write. "Understanding a population is the critical first step to facilitating better educational opportunities, and subsequently leading to the reduction of poverty."