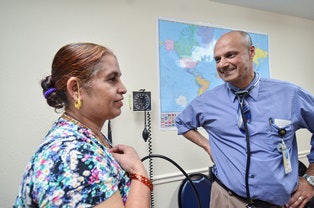 Her eyes dark and serious, Antoinette Misago spoke with the doctor as her 2-year-old daughter fidgeted. "Can children get fat watching too much TV?" asks Misago.
"Try to keep it at a minimum," Dr. Austin Baeth tells Misago, a refugee from Burundi who arrived in the U.S. five years ago.
"Children in the U.S. are becoming lazy," he notes, warning that overweight kids tend to become overweight adults. Asian women around the table chime in, a woman from Burma occasionally translating.
"How about kids drinking soda or juice?" one mother asks, adding that she dilutes juice with water to reduce the sugar content. The others nodded.
Another woman says her mother couldn't sleep at night because her legs felt as if they were burning. Possibly a sign of diabetes?
"It could be," the young physician says, jotting down a message to the mother's doctor.
Baeth, a second-year resident in internal medicine, is giving advice as part of a refugee health elective started recently at the University of Colorado Denver medical school.
While the school has offered a global health track for some time, it began offering this elective, interacting with the area's growing refugee community, in the 2010-2011 school year.
Interest in refugee health care is intensifying in the U.S., reflecting passage of the Refugee Act of 1980, which has led to a constant influx of people over the years from troubled spots around the world. Refugees have been resettled in 186 communities in 49 states, according to the U.S. State Department.
But medical schools have been too slow to teach this topic, critics say. Global health, taught at many medical schools, focuses on overall care of populations. It's different from helping people who may have spent years in camps before coming to this country.
"It's seen as a lot more exciting to do global health in Africa than to look at refugees in your backyard," says Dr. Bill Stauffer, an assistant professor in the Department of Medicine at the University of Minnesota.
Refugee struggles
Those who work with refugees are taking steps to organize and share information that can make a big difference in their patients' lives.
Treating refugees can be complicated and very challenging. Their English can be poor. They may have lived in camps — in crowded, squalid, dangerous conditions — for 10 or even 20 years. Some refugees, including many Iraqis, are victims of torture. Many of the women have been sexually assaulted.
Some of the refugees are unfamiliar with using electricity or a flush toilet. They may be malnourished. Some may have never seen a doctor before being screened.
Many suffer from depression or post-traumatic stress disorder (PTSD) from personal losses and witnessing or experiencing violence. Their emotional wounds may often be deeper than their medical problems and affect their health.
About 332,557 refugees were admitted to the U.S. — fleeing war and persecution — from fiscal year 2009 to 2013. The top five nationalities arriving in 2013 were Iraqi, Burmese, Bhutanese, Somali and Cuban. The number accepted has fluctuated greatly over the years, from more than 120,000 in 1990 and fewer than 30,000 in 2002.
Because the U.S. and other countries serve as somewhat of a last resort for refugees, after a crisis happens, five to 10 years may pass by before they arrive.
Medical aid
Refugees undergo a physical examination before entering the U.S. and are tested for communicable diseases such as tuberculosis. Some, such as cholera and diphtheria, require being quarantined. A second exam is recommended to look for medical issues, major depression and PTSD.
Not surprisingly, putting refugees at ease during a doctor's visit is a priority, says Dr. Joe Metmowlee Garland, co-founder and co-director of the Refugee Clinic at the Penn Center for Primary Care in Philadelphia.
Doctors should address a refugee directly with the help of a translator, rather than talk to the translator, he says. Patients should be told in great detail what to expect during the visit.
It's also important to listen patiently to refugees, who are often reluctant to talk about themselves, says Garland, who briefs residents about the political situations, common medical conditions and cultural norms of the countries that the patients are from.
It took Garland, an assistant professor of infectious diseases at the University of Pennsylvania medical school, a year to set up the refugee clinic, drawing heavily upon advice from resettlement agencies. It was a challenge.
"I didn't know what I didn't know," he says with a laugh.
Linguistic and cultural issues loom in refugees' first encounters with the American health system. But working through them is rewarding for them and for providers, says Garland, who calls a refugee clinic an "incredible" way to teach young doctors.
In the Denver area, Dr. Jamaluddin Moloo and a state health department official established a primary care clinic for refugees in 2012, called the Colorado Refugee Wellness Center, with the support of the head of CU's Department of Medicine and an array of local support agencies.
Colorado takes in about 2,000 refugees a year. In recent years, most have come from Burma, Bhutan, Somalia and Iraq.
The Colorado Refugee Wellness Center displays a few handicrafts from the refugees' countries. As patients wait to be seen, they can pick up brochures on the cold and flu, violence in the home, drug and alcohol abuse and other topics in Nepali, Somali, Swahili and other languages.
The clinic is a teaching tool, where medical students and residents can see tuberculosis, intestinal parasitic infections, low weight or height among children, anemia, untreated hernias, hypertension, diabetes, musculoskeletal problems, and depression and anxiety.
Residents also do home visits, which Baeth says is a great way to bond with patients and see what remedies would work best.
Students also may take patients on the bus to doctor's appointments and help them buy groceries or sign up for Medicaid.
Stauffer says it's important for people in the field to talk to each other, relating a personal experience he had. He found Bhutanese refugees were suffering from Vitamin B12 deficiencies, a potentially serious health problem — only to discover later that a colleague in Salt Lake City had known about this issue for a while.
Stauffer has created a Listserv to share such information. During the 2014 North American Refugee Health Conference, to be held June 19-21 in Rochester, New York, some physicians will discuss creating an organization focusing on refugee health care.
The conference will cover topics including detecting emotional distress; screening for mental health issues; the Syrian refugee crisis; obesity, diabetes and hypertension after resettlement; health care providers' familiarity with female genital cutting; community-based efforts to help the Bhutanese; and the experiences of a center for survivors of torture.
An alarmingly high rate of suicide among Bhutanese men, a major concern among experts, also will be discussed.
Refugees inspire many of those who work with them. By definition, they are survivors, says Jim Sutton, co-chair of the North American Refugee Health Conference.
"You've survived whatever crisis there was in your country, and life in refugee camps can be as horrible as the crisis itself," he says. "If you and I were resettled, not knowing the language, coming with nothing but the shirt on your back and a few pennies, we wouldn't survive. But they do. They figure it out."
Dr. Anna Banerji, the conference co-chair, calls refugees "some of the most determined people I have seen in my life."
"For them, it's life and death. They work very hard, study hard," says Banerji, who is on the faculty at the University of Toronto. "You see these scrawny little things wasting away, and five years later, they're strong — and want to succeed in life."