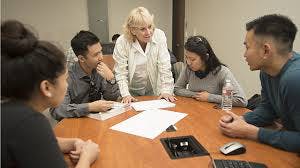 Educationally disadvantaged, Asian American and Pacific Islander (AAPI) community college students who participate in federally funded intervention programs are likelier than their nonparticipating peers to earn associate's degrees.
Furthermore, AAPI students in these programs are likelier to obtain those degrees faster than their peers, transfer to four-year institutions and attempt more for-credit courses even before finishing community college.
These are among the findings in a recently released report that explores the effectiveness of federal Asian American and Native American Pacific Islander-Serving Institution (AANAPISI) grants. The awards support retention efforts at colleges and universities where at least 10 percent of students are AAPI and 50 percent are low-income.
This report is among the topics scheduled for discussion at today's fifth annual higher education summit in Washington, D.C., organized by the Asian & Pacific Islander American Scholarship Fund (APIASF).
The study—one of the few to focus on two-year institutions—examined the academic progress of students at De Anza College, South Seattle Community College and City College of San Francisco (CCSF). About 34 percent of the latter's enrollment is AAPI. The three community colleges were among initial recipients of AANAPISI grants when the federal initiative launched in 2008.
Such a grant helped CCSF create a STEM intervention program to increase the transfer rate of AAPI students in calculus-based science majors. The program includes tutoring and study groups, book loans, counselors dedicated especially to the program and internship and research opportunities.
Ironically, the STEM program students' mean grade point average of 2.97 was worse than the 3.36 mean GPA for the comparison group, but the report's authors theorize that the lower grades resulted from program participants taking heavier loads—more classes per semester, across four semesters—and more rigorous courses in order to successfully transfer as STEM majors to four-year institutions.
Meanwhile, 69 percent of STEM program participants transferred to four-year schools—more than triple the rate of nonparticipants.
The report's authors note that AANAPISI grants can fill voids. For instance, the National Science Foundation, which finances numerous STEM endeavors, doesn't consider AAPIs an underrepresented minority, which excludes this racial group from NSF grants that support Minority Serving Institutions.
"These policies overlook challenges and barriers that exist for many AAPI subgroups," the report states. "Many AAPI students are struggling academically in STEM courses due to poor academic preparation, a lack of access to resources and difficulty with gateway courses."
At CCSF, for instance, many AAPIs enroll in remedial math, but only 56 percent continue to the next level and only about one-third reach transfer-level math.
The report's findings don't surprise APIASF President and Executive Director Neil Horikoshi, but "it was impressive to actually see the data longitudinally."
"The funding that is used to run AANAPISI programs is making a measurable difference," Horikoshi says. "The report demonstrates that AANAPISI funding is successfully changing the outcomes for some of the nation's most underserved students and should support the case for continued investments in AANAPISIs."
CCSF has been facing a potential July 31 revocation of its accreditation for fiscal and governance problems unrelated to the AANAPISI grant and STEM initiative. Without accreditation, the institution of 75,000-plus students—73 percent are first-generation college-goers and 30 percent are either Black or Hispanic—would lose state funding and be forced to close. Last week, the Accrediting Commission for Community and Junior Colleges said it would give CCSF two more years to solve its problems.
Filipinos and Vietnamese are the biggest subgroups to participate in AANAPISI programs at two of the community colleges, and they, along with Chinese, each constitute about one-quarter of program participants at De Anza.
AANAPISI grants financed learning communities at De Anza and South Seattle Community College, which helped students transition from basic skills to college-level courses. At De Anza, program participants read texts written by AAPI authors, and classroom themes were tied to current and historical issues in their communities. Learning community participants had higher persistence rates in the term following the intervention, the study found.
The number of institutions designated as AANAPISI by the federal government has increased five-fold since 2008, but the funding level hasn't kept pace with multiplying student enrollment and interest among college and university presidents.
In fact, budget appropriations in 2013 fell far short of the need and demand. An additional $22.8 million per year over the current level of funding is necessary to provide grants to all designated AANAPISI schools.
The report calls the shortfall "a missed opportunity, considering the number of institutions interested in pursuing resources that respond to the unique needs of their low-income students."
Horikoshi says he's "extremely concerned" about the ongoing budget shortfall for the nation's AANAPISIs.
"The ability of these institutions to support degree attainment for our students automatically impacts the welfare of our community," he says. "I don't think we can rely on federal budget appropriations to equitably meet the needs of our AAPI students and the institutions they attend. That's why the (annual) APIASF summit is important—sharing of best practices and information and skill building to help find new grant opportunities, all of which will help accelerate the success of AAPI students."
The summit brings together students, educators, college presidents, policymakers and other stakeholders.
Among other sessions at today's summit are panel discussions examining data pertaining to Native Hawaiians accessing education and how Polynesian students are using culturally relevant, reflective writing to boost their chances for college success.
The session that delves into the report about the AANAPISI-funded programs at the three community colleges will be led by Dr. Robert Teranishi, a University of California, Los Angeles professor who is principal investigator and lead author of the study.