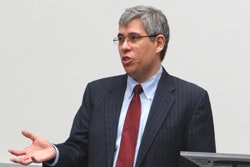 While studying Asian-American legal history about 20 years ago, Gabriel "Jack" Chin dug into the previous century's race-based exclusion laws and how they oppressed people of that era.
Chin was especially offended by the treatment of Hong Yen Chang, who was reportedly the nation's first lawyer of Chinese ancestry in 1888 but was banned from practicing in California based on his national origin. When Chin became a University of California, Davis law professor, he enlisted Asian-American students in an effort to right the historical wrong.
The goal was achieved last week when the California Supreme Court granted a posthumous law license to Chang. Members of UC Davis's Asian Pacific American Law Students Association (APALSA), with Chin as their faculty adviser, had petitioned the state's high court to do so.
Chin calls the ruling "gratifying" but emphasizes that the main purpose of the pursuit was to educate students and others about old exclusion laws. "It's a symbolic result from the court, but a teachable moment for the community at large," he says. "Many people don't know this history."
The students also saw firsthand that "there's more than one way to win a case," he says. "We didn't pursue just legal avenues, but we delved into lobbying, community engagement and working with news media. The APALSA members developed a range of skills."
Students immersed themselves in researching the prevailing social attitudes of the 1800s, such as how White Americans resented the thousands of Chinese who immigrated to work California's Gold Rush and then to build the Transcontinental Railroad. They were willing to work for cheaper wages than Whites, who opposed competition for jobs and lobbied for immigration restrictions against Chinese laborers. So, in 1882, Congress passed the Chinese Exclusion Act banning Chinese laborers from entering this country. It was also the only U.S. law that banned naturalized citizenship against a specific ethnic group.
Meanwhile, California enacted its own restrictions against Chinese residents there.
During World War Two, China became a U.S. ally. Congress repealed the Chinese Exclusion Act in 1943, almost a decade before California began dismantling anti-Chinese, state laws.
Amid the height of the xenophobia, however, Chang came to the United States in 1872 at age 13 under a Chinese educational program. He graduated from Columbia Law School in 1886.
A New York state judge soon granted Chang naturalized citizenship, and, through a special act of that state's legislature, he obtained his law license in 1888. At the time, The New York Times reported that Chang was the nation's first Chinese immigrant admitted to any bar in this country.
But by 1890, Chang's application to practice law in California—he wanted to serve San Francisco's Chinese community—was denied. Like New York, California required that lawyers be eligible for citizenship in order to practice. The state Supreme Court found Chang qualified for bar admission—his moral character was "duly vouched for"—but declared the New York judge erred when it naturalized him, saying it was impossible under the Chinese Exclusion Act. Furthermore, a California law prohibited non-citizens from practicing law in that state.
Denied his law license, Chang became a banker and diplomat. He retired in Berkeley and died in 1926. At that time, the Chinese Exclusion Act and California's citizenship requirement for state bar membership were still in effect.
Chin learned about Chang in the mid-1990s while exploring Asian-American legal history as part of earning his master's in law at Yale University.
A law educator since 1995, Chin has often enlisted students to help him try felony cases and argue criminal appeals, especially when he has taught courses containing a practical component. They also have undertaken projects to remove racist laws.
For instance, work by Chin and his students to repeal Jim Crow laws still on the books in multiple states includes a successful 2003 petition to the Ohio legislature to ratify the Fourteenth Amendment, more than 130 years after the state disapproved it during the ratification process. They also achieved the repeal of laws that had forbidden land ownership by Asian non-citizens that were on the books in Kansas, New Mexico and Wyoming.
When he began teaching at UC Davis in 2011, it seemed the perfect time, Chin says, to ask the APALSA students to try to address the 1890 court ruling against Chang. After all, many of them as future lawyers would have been barred from entering the state's legal profession under the 1890 ruling.
"They could easily empathize with what happened to Chang," Chin says of the students. "You study, you plan to become a lawyer, and, out of the blue, you don't get to do it."
The APALSA members examined the legal issues and, along the way, located Chang's descendants, several of whom are licensed California lawyers. Meanwhile, the California Supreme Court decided unanimously last year to issue a law license to a Mexican-born, U.S.-educated man who was undocumented when he was brought across the U.S. border as a child.
Willing to represent the UC Davis students for free, lawyers with a San Francisco law firm filed a motion with the high court after the decision favoring the Mexican immigrant was handed down.
The students convinced multiple bar associations to write letters and submit legal briefs in support of Chang. They lobbied state lawmakers, resulting in the California Senate passing a resolution last year calling for Chang's admission to the state bar.
"This project was more complicated than others," Chin says, comparing it to the Jim Crow and alien land law endeavors. "We had a court aspect plus a legislative aspect. There was a broad range of people whom we engaged. They saw how certain tasks might not seem like what lawyers do, but, in real life, it is what lawyers have to do."
Last week, the California Supreme Court said in a unanimous ruling that denial of Chang's 1890 application was an injustice not only to him but "to countless others who aspired to become a lawyer only to have their dream deferred on account of their race, alienage, or nationality. It was a loss to our communities and to society as a whole. More than a century later, the legal and policy underpinnings of our 1890 decision have been discredited. Even if we cannot undo history, we can acknowledge it and, in so doing, accord a full measure of recognition to Chang's path-breaking efforts. It is past time to acknowledge that the discriminatory exclusion of Chang was a grievous wrong."
The court went on to say that Californians "were denied Chang's services as a lawyer. But we need not be denied his example as a pioneer for a more inclusive legal profession."
The seven-member court is made up of three Asian-Americans, one Hispanic, one African-American and two White women. Associate Justice Goodwin Liu, previously a University of California, Berkeley law professor, was honored as an Emerging Scholar by Diverse: Issues in Higher Education in 2008.
Chang's family applauds the posthumous law license.
"A terrible wrong has been righted," says Rachelle Chong, a grandniece of Chang. "Our family is thrilled that this clearly racist decision is reversed."
The UC Davis students are also basking in the victory.
"It's empowering to know that we can make a difference even before we graduate," says Steven Vong, a second-year law student who is co-president of APALSA.
Chin learned something, too. "You often get the best work out of students when you work on something real."