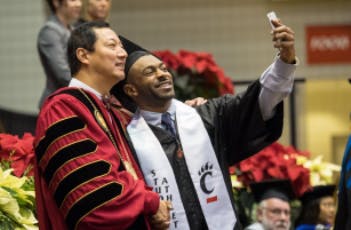 Dr. Santa J. Ono, one of a handful of Asian-American college presidents in the nation, is leaving the University of Cincinnati to become president at the University of British Columbia in Vancouver, Canada.
Ono, who was tapped to lead UC in 2012 after first serving as provost, quickly generated national headlines for his innovative and bold leadership style. He insisted on flying coach, drove his own car to university functions, and decided to sell the president's home near campus and used the money to create a $3 million endowment fund for student scholarships.
But Ono—known for his colorful bow-ties and his quirky sense of humor—was also extremely popular with the more than 44,000 students who attend the public school. They treated him like a rock star and he, in turn, would send them messages via Twitter, take selfies with them as they roamed about campus, and would buttonhole them about their experiences at a school he dubbed "the hottest college in America."
Thus, the announcement that he would be leaving the university at the middle of this month—not quite halfway into his 10-year contract—came as a surprise to students, staff and faculty who say that Ono has put the university on an upward trajectory.
Ono's decision to accept the presidency of the University of British Columbia means a return to his birthplace—Vancouver.
The son of a noted mathematician, Ono came of age in Baltimore, where he began studying music at the Peabody Conservatory in Baltimore and would eventually learn to play the cello.
His deep passion was biology, and he began a career as a biomedical researcher, ultimately landing administrative and teaching positions at Harvard, Johns Hopkins University and Emory.
One of the highlights of his tenure at UC was his effort to make the university one of the nation's top-25 public universities that could compete with elite private schools.
"We are going after the best," Ono told Diverse in a 2015 profile, adding that diversifying the campus was one of his major goals. "What we try to do here is to be a place where people feel safe and free to talk about [racial] issues. The university is much more diverse, and we've set that tone at the top."
Throughout his presidency, however, there were some public lows. Last year, Ono had to rally the campus and the community together after Ray Tensing, a former UC police officer, fatally shot Sam DuBose, a Black man, during a traffic stop. The judge has since ordered Ono to testify in that case.
At a recent press conference to announce Ono's departure, UC Board of Trustees Chairman Rob Richardson Jr. said that the board tried unsuccessfully to convince Ono to stay.
"We did everything we could," he said. "We're confident we're going to keep moving forward."
Richardson said Dr. Beverly Davenport, the current provost, will serve as interim president, as a national search for his replacement gets underway.
Ono, who has become a popular fixture throughout the city of Cincinnati, and even performed as a cellist with Yo-Yo Ma at the Cincinnati Symphony Orchestra, said that he will miss the people of the Queen City who welcomed him, his wife and their daughters to the city with open arms.
"It will be very tough leaving them and more generally the city of Cincinnati and the state of Ohio," Ono said at the press conference. "The only reasons I'm willing to do so are, one, that I know the university is on strong footing and has a very capable executive team. And, two, that UBC is that very special, once-in-a-lifetime place that I simply could not pass up the opportunity to lead."
Jamal Eric Watson can be reached at jwatson1@diverseeducation.com. You can follow him on Twitter @jamalericwatson