The "Let's Talk!" conference at the Harvard Graduate School of Education (HGSE) recently convened Pan-Asian college students, supporters and other educational leaders for a day-long forum addressing the success and well-being of Asian and Asian American college students across the country.
Now in its third year, the conference — created as a passion project by Dr. Josephine M. Kim, a faculty member at HGSE and licensed mental health counselor, and Marina Lee, executive director of Cogita Education Initiatives — has grown to address the direct mental health needs of Asian and Asian American students as they navigate their higher education journeys.
"'Let's Talk!' is a conference that was intended for Asian Americans and Asians, thinking about biculturalism and what it means to live in one culture and go to another to function, to go in and out seamlessly through both," Kim said in a video for the conference. "We don't know if there are too many spaces where the conversation is [dedicated to being] all about that identity."
Individuals who attended "Let's Talk!" heard stories from graduate students about their mental health experiences and work and listened to a keynote presentation from Kim and a panel of mental health practitioners featuring Francis Chen, Dr. Karen Shih, Gureen Singh, Tri Quach and Nora Yasumura.
Fourteen breakout sessions focused on a variety of topics, including Asian and Asian American students' understanding of self-perception, self-esteem and empowerment; racial identity; reverse culture shock as an international student; pursuing non-traditional careers; Asian American masculinity; and advocacy and support for LGBTQ individuals in the community.
Organizers for "Let's Talk!" created the space to empower conference participants and to ensure that students' issues received "attention and space in higher education spaces," says conference chair and HGSE student Hyunji Hannah Lee.
"I really hope that these two things stuck with them," she adds.
Studies show that Asian American students have higher rates of suicidal ideation than their college peers and that they are the least likely to seek mental health care on college campuses.
Lee says that leading factors that contribute to this stark reality are "intricately tied" to students having little or no mental health literacy, coming from honor/shame cultures that suppress negative experiences and having concerns about being able to meet with an "ethnically matched" therapist who can offer culturally relevant treatment.
The widely prevalent "model minority" myth can also be crippling to Asian and Asian American students' mental health and well-being.
"Due to the larger societal belief that Asian students are almost inherently born with superb intelligence, the ability to succeed and go the extra mile, many peers and student services alike don't actually think that Asian-identifying students have much that they go through," Lee adds.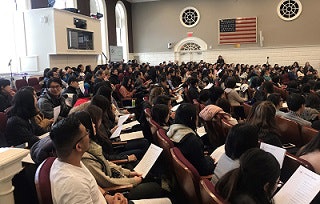 Because this belief rarely gets challenged, Asian and Asian American students do not voice their hardships or feel supported when they do seek help, she says.
There are additional challenges that relate to the specific background of Asian and Asian American students, says Dr. Karen Suyemoto, professor of psychology and graduate director of the Transnational Cultural and Community Studies Program at University of Massachusetts Boston.
Suyemoto emphasizes the bimodal distribution of students who are of Southeast Asian descent and students of backgrounds from East or South Asian countries and notes that an aggregation of all Asian groups — in addition to the model minority myth — can oversimplify the experiences of Asian and Asian American students and potentially lead to mental health illnesses or other pressures.
"The lower bump of Asian Americans that tend to be Southeast Asian Americans are usually coming from lower socioeconomic backgrounds [and] are more often the first in their family to go to college," Suyemoto says. "The upper bump come from more affluent backgrounds and are more likely to be later generation and East Asian and South Asian."
Asian American students, particularly those from Southeast Asian backgrounds, may also face mental duress if they do not fit the model minority stereotype. "They're struggling to have their education be a priority because of other issues in their lives" such as family responsibilities, having to work in order to attend college or not having adequate educational preparation, Suyemoto says.
Having educators and mental health care providers who recognize these distinctions as well as the unique needs of each student are essential for providing quality care and support.
In addition, racial hostility and discrimination by peers and others on campus can manifest themselves in a number of ways, Suyemoto adds, and can range from perceptions of how social Asian and Asian American students are, to assumptions about their language abilities, to false perceptions of how easy school is for them.
Beyond this, the notion of Asian and Asian American students as the "forever foreigner" in Western culture concerns scholars and students alike. While there is a cultural difference, "that doesn't mean that they can't adapt," Suyemoto says.
In higher education specifically, the scholar encouraged institutions to think about the education structure for culturally diverse groups like Asian and Asian American students.
"Education is set up without attention to the culture," Suyemoto says. "Asian Americans tend to get seen as not good students if they don't speak up, as opposed to recognizing that there are different ways to be a good student, there are [different] ways to participate."
"If we set up the criteria in a way that privileges one type of background or culture or approach, we're going to be setting up a biased criteria," she continues. "So the question is, is it the student that isn't fitting, or is it the education that is biased?"
Eradicating the stigma
Lee says that removing the stigma around mental health is necessary in Asian and Asian American communities, other marginalized communities and the larger society as a whole because mental illnesses do not discriminate on the basis of race, class, sexual orientation or socioeconomic status.
"Changing the false narrative that someone that struggles with mental health means that they are weak, crazy, or self-pitying is imperative to changing the stigma associated to mental health," she says. "For this to happen, I think both public and private sectors and institutions will need to be held accountable to their value of masked strength and perfectionism."
Educational institutions can play their part in providing culturally relevant mental health care by closely examining who is on their clinical staff. Lee says she has never had a chance to meet with an Asian American mental health care provider because her undergraduate college campus did not have any.
She adds, "Ethnic-match has been shown to be important to Asian and Asian Americans, so hiring clinicians or therapists that also identify as Asian/Asian American would be an important step forward."
Mental health discourse around some of the challenges Asian and Asian American students face in higher education needs to shift from prevailing conversations on the pressures from the "Tiger Mom" or a student's family members, for example, to become more inclusive of how stereotypes and discrimination of Asian and Asian American students also lead to mental health issues and stress.
"Health providers sometimes frame that as the clash of cultures or the clash of the individual that needs to choose for themselves [because] your parents have too much influence on you," Suyemoto explains. "If you frame it that way, then you're leaving the Asian American student between a rock and a hard place because there's no way for them to put together desires that they have for themselves in multiple ways."
Tiffany Pennamon can be reached at tiffany@diverseeducation.com. You can follow her on Twitter @tiffanypennamon
This article appeared in the May 3 issue of Diverse magazine.