Andrés Bonifacio Samahan, a Filipino American student group at San Diego State University, joined a call on Zoom, a videoconferencing platform, for a Q&A session with candidates for their board ­— a routine meeting before the group's elections. As one candidate spoke, an anonymous caller with their camera turned off asked, "Hey, do you want to hear a joke?"
What followed was a "flood of voices" saying racial slurs from anonymous accounts, running the gamut from anti-Asian remarks to the N-word, said sophomore Lana Bautista, chairperson of Andrés Bonifacio Samahan.
She remembers one heckler saying, "You all have coronavirus. Every single one of you."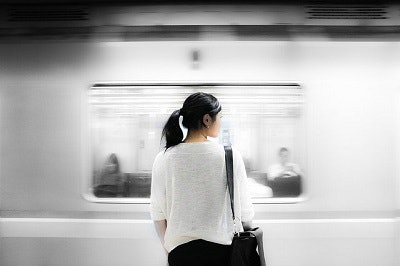 After two to three minutes of this — and stunned silence from the 40 group members on the call — Bautista decided to end the meeting.
"We just felt very violated, very attacked," she said.
But it didn't end there. When Bautista tweeted about the Zoombombing incident, her inbox filled with hate mail, even death threats.
She got a message from an anonymous Instagram account that called her "morbidly obese," insisted the coronavirus be referred to as "the China virus" and told her to "keep crying about inevitable systemic racism that Asians will experience on the other side of this."
Bautista isn't alone. Since the coronavirus crisis began in Wuhan, China, Asian and Asian American students have faced an increase in discrimination on U.S. campuses, as their classmates misplace blame for the pandemic. Months ago, students reported xenophobic remarks, pointed looks and avoidance from their peers. But even with classes moved online, they continue to deal with harassment.
For example, two Amherst College students were "verbally assaulted," according to a letter from Dr. Biddy Martin, Amherst's president, to her campus community, and students reported "racist banter in the dorms." She called the incidents "abhorrent."
Near Northwestern University, Dr. Soo La Kim, the assistant dean of graduate programs, found a rock with the phrase "Chinese virus" painted on it and underlined three times, The Daily Northwestern reported.
A pervasive problem
What students are experiencing is a part of a national uptick in discrimination against Asian Americans, a phenomenon Dr. Russell Jeung, professor and chair of Asian American studies at San Francisco State University, is carefully tracking. In March, he and his colleagues created a website called "Stop AAPI Hate" to collect reports of bias incidents against Asian Americans. They've already accumulated more than 1,200 reports, ranging from Zoombombing to vandalism to physical attacks.
Connected to these daily incidents, Jeung also sees anti-Asian hostility reflected in the current political landscape, with President Donald J. Trump issuing an immigration ban and previously referring to the pandemic as the "Chinese virus."
As both parties make U.S.-China relations a campaign issue, "I fear that with China-bashing comes Chinese-bashing and that leads to the bashing of Chinese Americans and Asian Americans," he said.
Meanwhile, over the course of the pandemic, the nature of harassment targeting Asian Americans has changed, he noted. To a large extent, it's moved online.
In fact, anti-Chinese hate speech on Twitter jumped by 900 percent in response to the pandemic, according to a report by L1ght, an artificial intelligence start up.
Through social media, hate speech is "circulating a lot more," Jeung said, which increases students' exposure to it.
For Bautista, this feels especially troubling because of the anonymity granted by the internet. She finds perpetrators emboldened, and it's simultaneously harder to hold them accountable.
"Now [that] people can just troll online, they can be overtly racist without their faces and their names attached," she said. "They feel like they can do anything they want, that they can be as harsh, as violent as they want with their words. I'll never even know who was on that Zoom call."
New platform, old bias
While the discrimination has shifted to new platforms, it's an old form of racism, pointed out Dr. Jason Chang, associate professor of history and Asian American studies and director of the Asian and Asian American Studies Institute at the University of Connecticut. Historically, Asian immigrants have been repeatedly associated with and blamed for diseases.
"Teaching about these prior episodes of anti-Asian racism in relationship to disease, one thing that becomes so clear to students is how similar the public response is to these outbreaks, and also that response continues not to produce better health outcomes," he said.
Through his lessons, Chang tries to give his students' context for what some of them are experiencing. He's found that for many young Asian Americans, the swift shift in their peers' behavior came as a shock, even though it's a repeated theme in Asian American history.
This generation of students grew up at a time "when the popular image of Asian Americans corresponds with the idea of the model minority," he said, a time when Asian Americans increased their representation in politics and media. But with this backlash, students are "coming to a different understanding of their own world," and it's "very jarring."
Meanwhile, students are stripped of their campus support systems as universities continue online instruction, he noted. If students experience racism on campus, they're protected by university policies for student conduct. There are mental health services for them. Now, students are more likely to feel like they're on their own.
Even remotely, universities can support Asian American students by coming out with strong statements against anti-Asian discrimination, Chang said. That way, "they can feel that their concerns have been seen by the university."
Jeung suggested faculty include protocols in their syllabi to prevent harassment in the classroom. He also advised universities to provide remote counseling services to students who have been bullied, draw on the expertise of their ethnic studies faculty and offer support for Asian American student groups and activist organizations.
When the Zoombombing happened, Bautista would have liked to see more support from her university, she said, calling the official response "kind of BS." Administrators condemned the incident toward the bottom of a letter with general coronavirus updates for the campus community.
"We recently learned of a Zoombombing that occurred during a student organizational meeting, in which hateful and xenophobic statements were made against members of the Asian and Asian-Pacific Islander communities," the letter read. "We are deeply opposed to any actions motivated by racism or that serve to marginalize individuals or groups based on their social identities."
Though she understands its limited time and resources, Bautista would have liked to see university leadership use the Zoombombing as an opportunity to educate her peers about what she and other Asian American students are going through — weathering a global health crisis and racism at the same time.
"We're already in a pandemic," she said. "Things are hard as it is. We have to adapt to this online education system. I have two deceased family members already. I'm being affected by the pandemic as much as anyone else."
The online harassment only makes it harder, she added, and as an Asian American student leader, she has the extra responsibility of checking in on her group members and making sure they have the resources they need.
When she shut down the Zoombombed meeting, she was shaken. Her video camera was on. Her name was visible to the hecklers, and she feared the online harassment she would later receive.
But "I have to be the strong one," she said. "You can't show weakness because people look up to you."
This article originally appeared in the May 14, 2020 edition of Diverse. You can find it here.