The COVID-19 pandemic hit just as Dr. S. David Wu, president of Baruch College, was celebrating his first year at the helm of the New York City-based institution. He had to move quickly to implement measures to protect his administrators, faculty and students.
Wu has led Baruch in auspicious times as the institution develops new and responsive models for teaching, research, student services and campus safety.
In a Q&A with Diverse, Wu talks about the experience of leading a school in a major COVID-19 hotspot, being the first Asian American president to lead an institution in The City University of New York (CUNY) system and what leadership lessons he took with him to Baruch from George Mason University, where he served as provost from 2014-2020.
DI: What inspired you to work in higher education?
DW: I began my career as a systems engineer, modeling complex systems in manufacturing and transportation. Years ago, a mentor encouraged me to try academia, giving me a higher degree of intellectual freedom. I started as an assistant professor and discovered a love for making an impact through teaching and research. Academia is a great fit for me, which now spans over three decades of my career. I combine my training as a systems engineer on how to approach data, uncertainty and complexity — all which contribute to thoughtful decision-making — with my personal mission to make a meaningful impact on people's lives.
DI: Starting in July of last year, you began your tenure as president of Baruch College during the height of a global pandemic. How has the experience been, and how has it helped you become a better president?
DW: While my tenure began during a very challenging time, I was grateful for the opportunity to lead Baruch during this pivotal moment in history. I spent much time engaging the community — not only how to deal with immediate challenges, but how we emerge stronger in the fast-changing technological and cultural environment with new ideas of how we interact, learn and create. Before officially starting last July, I established the Task Force for the Future to engage the college community to contemplate and address these big questions together — the engagement continues to this day. Challenges do inspire innovation.
DI: You are now the first Asian American to lead a CUNY institution in the system's history. Were you surprised when you heard that news and made history?
DW: It was a great honor to be chosen as Baruch's eighth president and selected as the first Asian American to lead a college in The City University of New York system. I truly resonate with what Baruch stands for — providing distinguished academics, combined with an unwavering commitment to social mobility. I am proud to lead one of the nation's most selective — and diverse — institutions. Today, more than ever, diversity in leadership is crucial in every sector. It is the power of representation, which ensures different backgrounds and perspectives and reflects the changing demographics of our communities and country.
DI: Not long after arriving at Baruch, you started the Task Force for the Future program that aims to mitigate the spread of COVID-19. Could you tell our readers what that is and how effective that program has been?
DW: I established the Task Force for the Future — composed of representatives from across the college — so we could harness lessons learned from this pandemic and draw on Baruch's signature creativity and innovation to lead a paradigm shift in public higher education. We are now implementing all aspects of the recommendations from the Task Force, which allows us to look ahead and prepare an expansive "Conceptual Framework for the Future." I also charged the Task Force to be a transparent effort that involves college-wide engagement. The goals are ambitious and the timing tight, yet I'm encouraged with the process and progress.
DI: You've been on record that you "aim to challenge higher education isomorphism," or the gravitational pull toward status quo and stagnation, rather than change and innovation. Why do you think that the higher education system needs to be challenged at this time?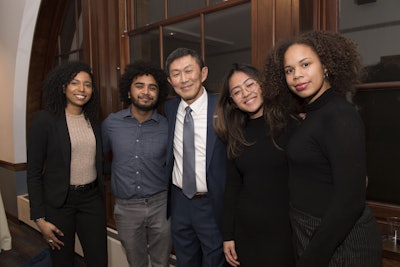 DW: The current problem in higher education may be described as one of double-tier isomorphism: elite colleges — known primarily for their academic excellence — and colleges that emphasize their social mobility mission rarely co-exist in the same settings. Few institutions — such as Baruch — can boast of academic renown while also providing access to a historically underrepresented population. This disparity in higher education needs to be addressed. The global pandemic has opened a rare window of opportunity for institutions to take a fresh look, challenge the status quo and reimagine what is possible to address how to deliver both excellence and access.
DI: How do you plan to keep the Baruch College community safe from COVID-19 in the upcoming summer and fall semesters? 
DW: We are working to address all aspects of a safe campus return. For now, we are planning for a best-case scenario in the fall, in which vaccination and other public health measures continue to demonstrate effectiveness in slowing the transmission of COVID-19, allowing for a safe return. Baruch continuingly updates its plan, specifying social distancing and safety protocols and determining in-person capacity based on the latest CDC guidelines and city/state regulations. Multiple college-wide groups are leading these discussions as we prioritize the health and safety of our community as well as ensure delivery of our academic mission.
DI: Are there any programs or initiatives that you developed at George Mason University that you have implemented at Baruch?
DW: I would focus on two specific aspects: (1) eliminate disparity in academic performance. I have devoted much effort at Mason toward expanding access for a diverse student population, while creating purposeful and transformative learning experiences. These efforts are bearing fruit in that Mason sustains little or no disparity in academic performance by Pell eligibility, transfer status or race and ethnicity; (2) strengthening and enriching multidisciplinary collaboration. I have significantly expanded research collaboration at individual, team and center-scale levels, while building critical external alliances and partnerships. This led to Mason's R1 recognition.
DI: Given the civil unrest that the country is going through, how have the attacks on Asian Americans affected your students and yourself personally?
DW: I believe that an attack on the safety and dignity of any group in our community is an attack on all of us. Racism is not just relevant to the Asian American or Black communities; it is germane to everyone. Only through solidarity and commitment can we begin to undo the horrific consequences of racism. In these troubling times, it is critical that we come together as a community to offer support and compassion and work toward change. Since becoming Baruch's president, I've made DEI a top priority, including having charged a President's Advisory Council on Diversity, Equity and Inclusion.
DI: Can you talk about some of the plans for the future at Baruch?
DW: With higher education on the verge of a dramatic shift, I am examining nearly every aspect of Baruch's operations and education modalities. A Hybrid/Online Instruction Working Group will help to increase instructional options and capacity online for fall and beyond. I created the President's Vision Council, an advisory group, composed of individuals inside and outside of Baruch, to garner broader perspectives as we embark on a path to transform how we deliver our mission. This is the right moment to build on the college's successes, identify new opportunities, expand our footprint and engage new audiences well beyond New York City.
This article originally appeared in the May 13, 2021 edition of Diverse. Read it here.