Professors of Asian heritage at U.S. colleges and universities have faced daunting challenges in the past year, and those struggles have intensified in recent months as violence and hate incidents against Asian Americans have escalated.
The anti-Asian rhetoric of the Trump administration in connection with the COVID-19 pandemic fueled similar verbal attacks throughout the country, which ultimately led to physical assaults. But the mass killings of eight people, including six Asian women, in Atlanta in March sparked fear and outrage among Asian Americans, including those on college campuses.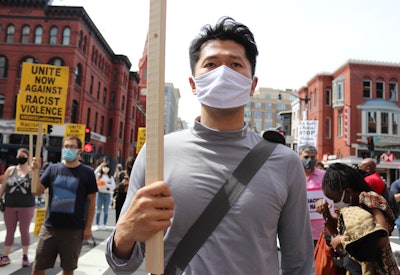 Anti-Asian hate crimes in 16 of America's largest cities increased 149% in 2020 while overall hate crimes dropped 7%, according to an analysis of official preliminary police data by the Center for the Study of Hate & Extremism at California State University, San Bernardino.
The Stop AAPI Hate research group, which includes scholars from San Francisco State University, documented more than 3,795 hate incidents from the end of March 2020 to the end of February 2021. Reported incidents were verbal harassment (68.1%); shunning — i.e., the deliberate avoidance of Asian Americans — (20.5%); physical assault (11.1%); civil rights violations including workplace discrimination, refusal of service and being barred from transportation (8.5%); and online harassment (6.8%) of the total incidents.
"There has been a sharp ticking-up of requests to give talks to educate people very quickly about Asian American history," says Dr. Madeline Hsu, professor of history at the University of Texas at Austin and former director of the Center for Asian American Studies. "A lot of people have been writing op-ed pieces in order to produce quick, easily digestible publications," Hsu says, adding that others "have been approached by their institutions to conduct emotional, counseling support on campus."
Hsu adds that, overall, in the wake of the Atlanta killings and other violent attacks, many of her colleagues "have been overwhelmed because of so many sudden demands on them."
Hsu serves as president of the Immigration and Ethnic History Society, which publishes the Journal of American Ethnic History. "Anti-Chinese government sentiment makes it very difficult for Chinese Americans and Chinese immigrants," Hsu says. "They may be ethnically Chinese but that does not mean they are politically Chinese."
Academia's response
Academia has been at the forefront of institutions decrying the violence and some have gone further by making recommendations and implementing programs for change. The Columbia University Weatherhead East Asian Institute (WEAI) posted a strong condemnation of the March massacre in Atlanta "and the continued violence and discrimination against Asians and Asian-Americans," adding that "it is impossible to extricate this act of violence from a long history of racial discrimination and misogyny."
The WEAI's statement notes the historical context of anti-Asian hate dating back to "the targeted persecution of scientists of Chinese descent in academia and industry" and the nation's long history of anti-Asian activity including the Chinese Exclusion Act of 1882 and the Japanese internment during WWII. The statement also denounces "hateful speech and rhetoric that have become common at the highest levels of our government, as well as in society at large. As illustrated by the use of such terms for the coronavirus as 'China Virus' and 'Kung Flu,' anti-Asian-American hatred grows out of — even as it promotes — ignorance and fear."
The Institute recently announced a new remote lecture series titled "Asia in Action: Knowledge and Inclusion in a Time of Ignorance and Fear," during the remaining spring semester and throughout the summer focused on "discrimination and violence towards Asians and individuals of Asian descent, systemic racism, and topics of race and ethnicity in relation to Global East Asia more broadly."
Dr. Guojun Wang, assistant professor of Asian studies at Vanderbilt University, expresses deep concern for his Asian American students as well as his international students from Asian countries. And as an immigrant from China, he is personally aware of the threats and potential danger. "I felt the antagonism. During the past year I bought a taser to protect my family and I carry it when I am with my kids," says Wang.
Regarding his students, "They are really afraid," Wang says. "Many of them have experienced verbal and even physical threats on the streets around campus; the fear is really rampant because they don't know what's going to happen at any moment, just because they look different from other people." Wang was so concerned about his students that he designed a new course called Overseas Encounters in response to the current situation.
For international students, especially those from Asia, he says, there are all sorts of travel and logistical problems. Many of the international students cannot come back to campus so they have been attending school remotely from other countries. Those who remained in the U.S. "are lonely, with no family here." And for those who returned to their home country, many have not been able come back to the U.S. because the consulates are closed. "Then there is a requirement for them to quarantine in a third country for 14 days before they can come to the U.S. I have many students in China who have to quarantine in Singapore for two weeks before they can fly to America."
Wang also notes that some students have opted not to return because of the news about the killings and other violence. Wang suggests possible solutions in the form of education policy. He says the Department of Education needs to develop policy "to educate the educators" in K-12 to help them understand American history that includes the truth of Asian migration and experiences in the diaspora.
Maintaining engagement
Dr. Diego Luis, visiting assistant professor of history at Davidson University, sees strong historical connections between the vilification of Asians in today's society and centuries-old anti-Asian violence rooted in colonialism and "ideas of preserving a sense of heteronormativity within a particular colonial space."
Luis also believes academic institutions can do more than simply "sending out statements that address how communities are hurting … without any teeth and without continued engagement with the issue after it leaves the national spotlight." Luis recommends "the formation of academic centers and institutes dedicated to issues pertaining to Asian American communities, an increase in tenure track lines that deal with Asian American studies and incorporating these conversations … into the curriculum in a way that always should have been done." He also suggests that "more can be done related to community engagement and bringing in Asian American therapists for students traumatized by racial incidents." Luis suggests that such changes "can give institutions the tools to engage with these issues over time in a sustained way rather than just putting a band-aid on the issue."
Luis commends a student group, the Asian American Initiative, for being "extremely active over the past few years" in advocating for Asian American studies with full-time, tenure-track faculty.
Dr. Keith Camacho, professor and vice chair of Asian American Studies at UCLA, sees community and academia as partners in the social justice arena.
"Asian American studies has an obligation to expand to indigenous communities and to have coalitions and solidarity with our sister fields — Black studies, Chicano, Latinx studies and gender studies — it's a concerted effort," Camacho asserts. "We need to have coalitions and mobilizations around social justice." Camacho says the coalitions also should bring working-class communities together with research universities and community colleges. "Academics should not lead this discussion. It has to come from the community; academics and intellectuals are just there to support working people."
WEAI lists actions that its campus community can take — and which may apply to other institutions as well — including reporting any incidents of hate and bias to the Stop AAPI Hate website, taking advantage of antiracism training and multicultural resources on campus and volunteering in the neighboring community.
This article originally appeared in the May 13, 2021 edition of Diverse. Read it here.