The Navajo Nation now has the highest per capita COVID-19 infection rate in the country, surpassing New York and New Jersey, with 5,250 cases and 241 coronavirus deaths as of May 31, according to the Navajo Department of Health. The tribe is in an official state of emergency.
Diné College – a Navajo tribal college serving more than 1,500 students across Arizona, New Mexico and Utah – has been busy weathering this crisis. Students and faculty alike were infected with the coronavirus during the spring semester. Now, summer enrollment is down roughly 25%.
"It's scary," said Diné College president Dr. Charles M. Roessel. "A lot of our students, their homes are intergenerational. They're living at home with their parents who are living at home with their parents who may be living at home with their parents, all within a few feet of each other … And of course, they take care of each other."
The pandemic has also "magnified" disparities in Native American lands, he added, like a lack of supermarkets and an underfunded healthcare system, making the day-to-day logistics of students' lives harder. For example, Roessel said students now have to ask themselves questions like how to make it to the grocery store 35 miles away – while caring for sick family members and taking classes – before curfew at 8 p.m., a Navajo policy during the pandemic.
Simple tasks turn into "huge challenges," he said. "It's like being in a 110-meter hurdle, and while you're in the middle of that, they add another 50 meters."
Meanwhile, internet access on the reservation is "very, very shaky," he said, which made it hard to shift to an online platform. Nearly 86% of Diné College students don't have internet access at home, a pervasive problem for tribal colleges and universities.
Even before the pandemic, students would do their college work in the campus parking lot so they could use the internet, said Roessel. As the college moved online following the pandemic, students without laptops complained that using Zoom on their phones quickly ate up their data plans. Professors sometimes had to teach class in three different mediums – Zoom, phone calls and email – to deliver a lesson to all of their students.
"We could put everything online, but if the student can't access it, what good is it?" he said.
That's why he plans to invest in campus technology with stimulus funds from the Coronavirus Aid, Relief, and Economic Security (CARES) Act.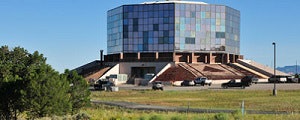 One of Roessel's plans is to use the stimulus to open learning centers, in addition to the college's six campuses, with laptops for rent and reliable internet access for students. He wants to connect with the region's K-12 schools that have unutilized spaces and partner with them. The centers would save students sometimes long, daily commutes to campus just to use the internet and could keep people safer by limiting the number of people on campuses, he said. And he also hopes it will make college more feasible for people who live far from campuses and might not otherwise consider it.
"I think, for us, this is what the new normal will look like," he added. "It'll actually be an expanded college, not a retracted college."
In the meantime, the college is trying to help students – and the wider Navajo community – through the crisis to the extent that it can. Its dining services has given out more than 3,000 meals – and counting – to seniors when their center closed. The school also distributed laptops and about 1,100 checks to students from the emergency student aid provided by the CARES Act.
Roessel's biggest concern for the fall – in addition to planning a limited, in-person reopening of campuses – is mental health support for Navajo students dealing with grief as the pandemic sweeps through the community. He's been getting emails from students, just sharing their experiences of the pandemic.
"I don't think any family on the reservation has not been impacted directly," he said. "And I mean, absolutely directly … Going forward, this isn't going to stop. We have a lot of students who lost either their parents or their grandparents or their aunts or their uncles."
He doesn't want to "just hire a psychiatrist" but to think intentionally about what campus mental health supports based on Navajo values and culture might look like, in the same way the school uses a "Navajo philosophy of learning."
Last semester, a student-organized, faculty-conducted online lecture series focused on COVID-19 from a Navajo perspective.
"The resilience, the courage, the love… they're within our stories," Roessel said. "They're within our history."
He feels like tradition can offer students tools for weathering the crisis amid disparities.
"We will overcome," he said. "We're not victims. Ultimately, we will conquer this, and our students will succeed, and our staff will continue to teach."
Sara Weissman can be reached at sweissman@diverseeducation.com.