The San Manuel Band of Mission Indians has donated $14 million to Claremont Graduate University for a research center focusing on physical and mental-health challenges in underserved and tribal communities, Daily Bulletin reported.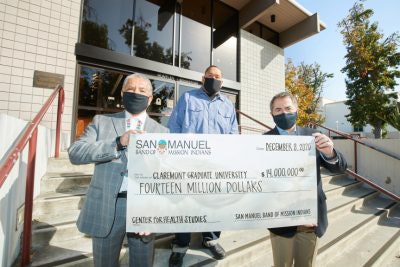 The Yuhaaviatam Center for Health Studies will be housed in the Huntley Bookstore on the Claremont Colleges' campus. The $14 million will go towards renovating the Huntley Library.
CGU's spot "on the western border of the Inland Empire, an area with many underserved groups, including Native American communities, that have a history with chronic mental-health issues, are expected to benefit the region," the Bulletin reported.
"It's our hope to eventually produce the kinds of research at this center that will help prepare everyone, especially our most vulnerable populations, for the challenges of another global crisis," CGU President Len Jessup said.
Yuhaaviatam, means "People of the Pines," referring to the San Manuel tribe's ancestors.
The new center will house the Tribal Administration Program, which offers certification in management related to tribal governance and administration. The program has been around since 2006.