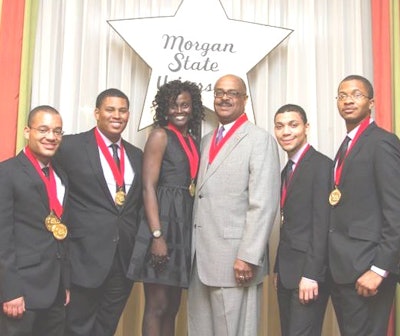 Morgan State University alumnus Mark Branch recalls that participating on his school's team in the Honda Campus All-Star Challenge produced an experience that's stayed with him since graduating from the Baltimore-based historically Black university with an engineering degree and working at the NASA Goddard Space Flight Center as an aerospace engineer.
Competing on his high school quiz bowl team and for Morgan State in the Honda Campus All-Star Challenge "made [him] want to get better in life," he said, noting that he joined the team as a college senior during the 1990-91 academic year.
"[Those experiences] instilled in me the drive to get better … competition brings out the best in me," Branch explained. "Even though our team didn't reach the highest of heights, [the experiences] prepared me as an individual for the highest of heights and that's why I work for the world's premier space agency."
In addition to his own college quiz team experience, Branch takes considerable pride in knowing that the Morgan State University team has been the reigning national champion in 2012 and 2013, and has been defending its title in competition this winter and spring. "The Morgan State program apparently has gotten really good over the years," noted Branch.
Since 1989, the American Honda Motor Company has sponsored the national quiz competition that showcases the intellectual talent of the best and brightest students attending historically Black colleges and universities (HBCUs). This week, the 25th anniversary year of the Honda Campus All-Star Challenge culminates with the national championship tournament in Torrance, Calif., at which Morgan State University is seeking a record third consecutive national title.
Since Saturday, hundreds of students from 48 schools have been competing in Honda's longest running U.S. philanthropic program in the United States. A total of 76 HBCUs fielded four-person teams during national qualifying tournaments this winter. During this week's national championship tournament, the teams are competing for the national title and a grand prize of $50,000. The other participating HBCU teams earn institutional grants from Honda that total nearly $328,000 each year. The grand prize and institutional grants support academic activities at the schools.
"It's a great opportunity [for students] to learn a lot of things regardless of [their] major and that's a good thing," said Dr. Oluwa Tosin Adegbola, the Morgan State University quiz team coach and an associate professor in the school's Department of Communications Studies.
"I have amazing students [and] I'm proud of them," noted Adegbola.
The Honda Campus All-Star Challenge (HCASC) "is directed towards the students but the involvement [of] the campus community is pretty strong," Steve Morikawa, the assistant vice president for corporate and community relations at the American Honda Motor Co., told Diverse last week.
"We have several presidents that come out to support the teams and they also participate on the strategic planning committee of the annual competition," he noted.
Since its 1989 launch, HCASC has awarded more than $7 million in grants to participating HBCUs and has involved more than 100,000 students across 22 states, according to American Honda Company officials. Morikawa said HCASC has evolved to incorporate activities for participating students, which include coaching them on "life skills, how to apply for a job, what they need to know about personal credit, how to get along with others, teamwork [and] team building."
In 2012, Honda moved the national championship tournament from Florida to its U.S. headquarters in Torrance, where the company has been able to organize activities that enable students to experience professional development activities and interact with Honda executives. "We have our management here to meet the students. …The reason we put it here is we wanted it to be on-site where there could be very direct [engagement- between Honda executives and the HBCU students," Morikawa said.
In recent times, Honda has launched the HCASC Hall of Fame, which recognizes high profile former HCASC participants. Inductees include NASA's Branch and Clark Atlanta University alumnus and current ESPN anchor Bomani Jones, who participated in two HCASC competitions between 1999 and 2001.