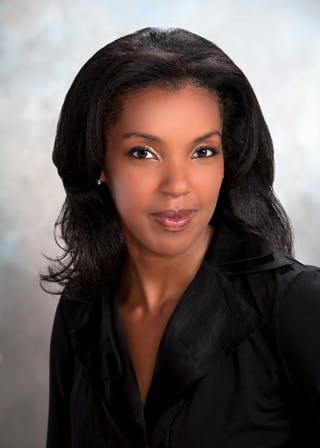 As business schools across the country begin a process of self-examination regarding the role of women, Emory University's Goizueta Business School quietly stepped to the front of the pack. The school announced that Dr. Erika Hayes James will join Emory as dean of Goizueta on July 15.
"Erika James has all the qualities that we want for a leader at Goizueta," said Provost Claire Sterk in a press release. "She brings a background of impressive scholarship and strong skills in academic administration, and she will work collaboratively with faculty, students, staff, alumni and supporters to take the school to the next level — all the while honoring the principled leadership of Mr. Goizueta's legacy."
Goizueta's appointment of an African-American woman as dean is a first for top business schools nationwide. According to the 2014 Association to Advance Collegiate Schools of Business (AACSB) Business School Data Guide, only 22 percent of American business schools have female deans while only 3.8 percent of full-time business faculty identify as Black.
While indicating that she is "flattered and humbled" by her new role, James is focused on Goizueta's increasingly bright prospects.
In 2012, Goizueta had the most success placing its MBA graduates of any of the top 25 business schools.
"One of the first things over the longer periods of time that I would like to do is showcase to the world the value that the Goizueta Business School has," said James. "Not only the students that come through at the undergraduate and graduate level, but to demonstrate the leadership that exists among the faculty, and the contributions that we can make across a variety of outlets within the business sector."
Goizueta's undergraduate business school program is ranked ninth nationally by Bloomberg Businessweek, while the full-time MBA program is ranked 22nd. "[The undergraduate business school] is perennially a top 10, and we would like to make it perennially a top five," said James. "I think we can easily do that. We've got really talented faculty and terrific students that are attracted to the school, and that's true at both the undergraduate and graduate levels."
James earned a bachelor's in psychology from Pomona College in 1991. She completed her master's and Ph.D. in organizational psychology at the University of Michigan, going on to work as a consultant at Perkins Williams Associates from 1995 to 2000.
In 2001, James joined the Darden School of Business at the University of Virginia as a professor, earning accolades from her colleagues and serving as a visiting associate professor at Harvard Business School for the 2008-2009 academic year. In 2012, James was named senior associate dean at Darden.
Since
institutions such as Harvard Business School have made a concentrated effort to foster the development of their female students, the obvious question that arises from James' appointment is whether or not she will make gender equity a priority. James says she is prepared to assess the situation after she starts at Goizueta.
"I need to be there and understand what the dynamics are and the extent to which there is an imbalance, if there is a significant one," said James. "But certainly I want to create an environment that is inclusive and supportive and allows for all members of the community to succeed. And where there are opportunities to create additional diversity, then that's obviously something that's important to me."
In 2010, James helped initiate Darden's Women's Leadership Program, a week-long course for female business leaders.
Dr. Elizabeth Powell, assistant professor of business at Darden, said that James "was instrumental in helping Darden see that there were women out there who would treasure the opportunity to get together and talk about leadership. She's the master designer of the program, and has the insight to put it together. But she also has a tremendous amount of professional grace that is a role model to the women in the program."
Powell, whose expertise is in leadership presence, lauds the program for emphasizing the strengths and abilities of its participants. "The commonality of all being women allowed them to talk about leadership in a way that addresses gender, but isn't necessarily also determined by gender," Powell said.
In addition to the Women's Leadership Program at Darden, James has also focused her academic attention on the reception of women at the highest levels of management. James, with co-author Peggy M. Lee of Arizona State University, published "She'-E-Os: Gender Effects and Investor Reactions to the Announcements of Top Executive Appointments," in Strategic Management Journal in 2007. The article analyzed 1,624 announcements regarding the hiring of senior management, such as CEOs, chief financial officers, chief operating officers, presidents and executive vice presidents from 1990 to 2000.
"We looked at the impact of the stock price of a company when a woman is named CEO or to a very significant and public leadership position within an organization," said James. "The disturbing signs that the stock price drops immediately after that kind of announcement is made much so relative to … the announcement of a male CEO."