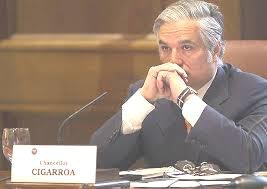 UT System Chancellor Francisco Cigarroa announced in February that he would step down once a new president of UT-Austin is selected.AUSTIN, Texas ― Years of turmoil at the University of Texas at Austin could complicate a search for two of the most powerful higher education jobs in the state: a new UT system chancellor and a president of the 50,000-student flagship campus.
Both offices will have new leaders after embattled UT Austin President Bill Powers this week negotiated a June 2015 exit after receiving an ultimatum from his boss to resign or risk being fired.
The warning came from UT System Chancellor Francisco Cigarroa, who had announced in February that he would step down once a replacement is found. When Powers and Cigarroa leave, it will mark the end of a stormy partnership that observers say took a toll on the reputation of UT and could hamper efforts to lure the best successors.
The Austin American-Statesman reported Sunday that experts say it is crucial that regents now eschew politics and meddling, promote harmony and choose proven leaders respected by academics.
"The best candidates don't want to step into a situation where there's that kind of distraction," said Bill Funk, founder and president of a leading higher education search firm, R. William Funk and Associates in Dallas. "These positions are challenging enough in the best of circumstances."
Of the six university systems in Texas, all but two—UT and the University of Houston System—are led by former politicians. At UT, politics have played out most prominently in recent years with Gov. Rick Perry supporting a conservative think tank's push for faculty to spend more time teaching.
The perception nationally is that "there is too much political interference with higher education in Texas," said former Board of Regents Chairman Scott Caven.
Perry has appointed all nine UT regents as well as a non-voting student regent. He also has backed UT System Regent Wallace Hall Jr., who faces possible impeachment after his unprecedented examination of dozens of boxes of UT-Austin documents in what some legislators and two fellow regents called a "witch hunt" to oust Powers.
Regent Steve Hicks said Friday that he had the same fears as those raised by experts about finding the best candidates, but the search for chancellor hasn't borne that out.
"I have been really surprised with the quality of people who have come forward," he said.
UT System regents disclosed Wednesday that they are getting close to choosing a chancellor and the search has been smooth. The new chancellor almost certainly will be in place before a campus president is selected and will aid in that search, with the board closing the deal, UT System spokeswoman Jenny LaCoste-Caputo said.