Dr. Greses Pérez
Title: McDonnell Family Professorship in Engineering Education and Assistant Professor, Tufts University, School of Engineering, Civil and Environmental Engineering
Secondary appointments: Mechanical Engineering and Education
Education: B.S., civil engineering, Instituto Tecnológico de Santo Domingo; M.S., civil and environmental engineering, University of Puerto Rico at Mayagüez; M.A., education policy and leadership, Southern Methodist University; Ph.D., science education and learning sciences, Stanford University
Age: 38
Mentors: Drs. Bryan Brown, Guadalupe Valdés, Sheri Sheppard, Roy Pea, Daniel Schwartz, Jonathan Osborne, Jennifer Calvert, Ramón Martinez and Sarah Church at Stanford; Dr. Diego Román, University of Wisconsin, Madison; Dr. K.C. Busch, North Carolina State University.
Words of encouragement/wisdom: "Believe in the process, the idea and the passion that you have for what you do and trust it."
Dr. Greses Pérez combines her professional experience as an engineer and expertise as a learning scientist and science educator to engage and inform not only her students but also academia about who could be entering the engineering profession.
Currently in her first year at Tufts University School of Engineering, Pérez describes her path to her research interests as the "product of the different contexts in which I have been, the different experiences that I have been exposed to, the people in those environments and the broader social situations."
Perez, who is a civil engineer in training, says she went more than a decade between the first and second times she met a woman in leadership engineering. Going so long without mentors of the same gender and never seeing another woman of color meant she had no one with whom to discuss the experiences she was having as an Afro-Latina engineer.
"It wasn't until I embarked on research projects that I started to understand my own experiences," says Pérez. "A crucial part of that was my interest in language."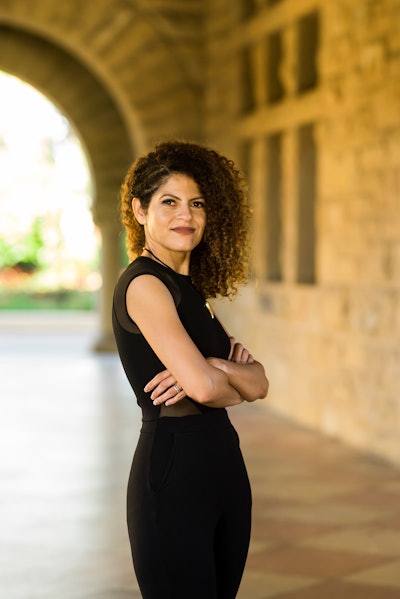 She began to examine how social contexts and community values may frame how people think, speak and behave. The ways in which engineers are portrayed may keep some people from having the opportunity to become competent engineers and scientists. Her research explores how social norms around language, particularly speakers of non-dominant languages, shape participation and learning in engineering education.
"My own journey as a woman engineer who grew up in a Spanish-speaking household and eventually became a teacher in Title I schools serving primarily Black and Latinx communities … opened my eyes to the ways most students of color were treated as lacking the competencies necessary to be successful," says Pérez.
She notes that the language and experiences that people of color bring are not typically part of engineering and science practice. As others learn about her work, she hopes for a shift in the way people see differences and realize that within those differences there is value.
"It's better for people to develop a strong understanding of the ideas instead of us only focusing on whether or not people engage in certain language practices," she says. "I'm looking to expand the ways that we value communicative practices in the disciplines of science and engineering, because I believe that by doing so we open opportunities for different knowledge and different ways of understanding the world."
When an environment is inclusive in engineering, Pérez has found that people bring their community knowledge into creating solutions, which leads to an increase in quantity and nuances of ideas. At Tufts, she teaches both undergraduate and graduate students. Her current course is Race, Language and Culture as Technological Artifacts for Equitable Engineering and Science.
"She is capturing an audience that has yearned for a change in engineering culture," says Dr. Chris Swan, dean of undergraduate education, Tufts University School of Engineering. "The key to [Pérez's] work is how she does not seek for students to conform to what the thought of an engineer is almost systemically expected to be. … She says, 'We should consider the background of students and bring that into what we do for engineering education."
Pérez explains that we have an engineering workforce whose background does not reflect the demographics of our population. This country's growing diverse population requires more complex approaches to engineering in order to create solutions for all of us. That, says Pérez, requires rethinking about who can be engineers and how they are trained.
"If we train these engineers who come from multicompetent communities to draw on the forms of knowledge that come from their context, we are going to come up with better engineering solutions and scientific ideas for the population we have," Pérez says.
This article originally appeared in the January 20, 2022 edition of Diverse. Read it here.