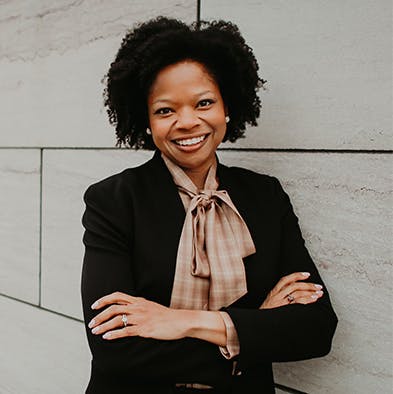 Dr. Shea Kidd Brown, vice president for campus life at Wake Forest UniversityOn the steps of the student center at The University of Southern Mississippi in 1997, Dr. Joe Paul was making his usual rounds. Paul was vice president of student affairs, and he considered it crucial to spend time meeting students and engaging with them. That was how he first crossed paths with Dr. Shea Kidd Brown, then just an undergraduate in her first year at college.
Kidd Brown remembers that meeting as fateful.
"I wasn't sure I could 'do college,' like many students today," said Kidd Brown. "I wasn't confident on campus, and there were lots of thoughts that led me to believe I wasn't good enough."
Paul said that right away, Kidd Brown stood out.
"She's just so engaging, she's hard to forget," said Paul. "She had that extra boost of energy."
To Paul, it is no surprise that Kidd Brown's career in student affairs has seen a meteoric rise. From a weary teenager on a university campus to becoming vice president of campus life at Wake Forest University this January, Kidd Brown has been positively impacting the lives of students, faculty, and staff for almost two decades. Kidd Brown is committed to creating the sense of belonging crucial to retention through what she calls "hard work and heart work."
"I'm very strengths oriented," said Kidd Brown, who spent her first weeks at Wake Forest learning about what works well there. Knowing that, she said, will allow to her "to make meaningful change, not change for the sake of change."
Kidd Brown is quick to credit others for her success. Not just mentors like Dr. Joe Paul, but also her parents and grandmother, Lillian Louie, who served as secretary to civil rights leader Medgar Evers before he was assassinated in Jackson, Mississippi in 1963.
"[My grandmother] really instilled in me the importance of education, living a life congruent with my values, making sure my actions led to helping other people," said Kidd Brown. "For her, generosity wasn't always money, it was time and talents, and how we use those to influence others."
Kidd Brown is open about her successes and her struggles, wanting to lead in an accessible way. She became a single mother while she was earning her Ph.D. and working at the University of Memphis in 2010, when her immediate family was hours away by car. She was grateful, she said, to rely on her network of friends and colleagues for support during that time.
"We're all navigating similar things," she said. "Leadership is a process, not a position. Oftentimes in our field we see people ascend to these roles and we don't know their bumps and bruises."
Having experienced tough times, said Kidd Brown, helps to keep her calm and grounded. During those moments, Kidd Brown said she likes to keep her focus on the students themselves, "whether it's a student who can't locate a building or answering the phone and knowing the student has stopped at a few different places before coming to you."
This has been particularly important during COVID-19, a time when many student affairs professionals are experiencing high stress and burnout. Up to 60% of student affairs professionals leave their careers within five years of graduating with their master's degree, according to a 2016 study in the Journal of Student Affairs Research and Practice.
"I have a bracelet I wear every day that says, 'Remember why you started,'" said Kidd Brown. "Whether it's Covid-19, or a challenging situation we've never dealt with before, I have to remember being at the steps of the student center and remember what it felt like to matter to Dr. Joe Paul. My why is what keeps me going."
Paul's encouragement is what set Kidd Brown on the path toward student affairs. Her first on-campus job was in his office, and her involvement with Southern Miss deepened when she became a member of the institutions' orientation team, led at the time by Dr. Christy Myers, now the chief operating officer at the Children's Museum of St. Tammany in Louisiana.
"When Shea speaks, she always has a way of making you want to listen to what she has to say, even if you didn't think you were interested," said Myers with a laugh. "She stood out as a leader from the very beginning."
Myers said that Kidd Brown's ability to build a strong network of support has enabled her to be grounded in whatever she does. Myers called Kidd Brown "resilient."
After receiving her undergraduate degree, Kidd Brown worked for a brief period in sales, but said the role did not "fill her cup." She turned to her network for advice, which led her to graduate school at the University of Georgia where she met Dr. Merrily Dunn, an associate professor of college student affairs administration.
"The thing I really remember about Shea is, the first time we had an advising meeting, she was a first semester [master's degree] student who wanted to talk about getting her doctorate. I'd never had that," said Dunn. "She was very sincere and earnest, and I had no trouble envisioning her doing it."
Dunn said that Kidd Brown would come to her with ideas and ask for advice.  
"In person, she's so incredibly authentic and genuine and truly kind without ever being a push over," said Dunn. 
While Kidd Brown said she still has a lot to learn about the Wake Forest community, she's excited to find ways to make the student experience engaging and equitable. 
"Shea's a wise soul in an energetic young woman's body," said Paul. "She's such a delight, and I couldn't be prouder. Wake Forest is going to be glad they've made this decision."
Liann Herder can be reached at lherder@diverseeducation.com.