Dr. John Karl Scholz will become president of The University of Oregon (UO), effective Jul. 1.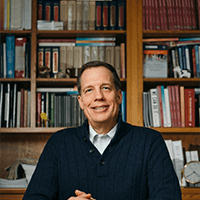 Scholz is currently provost and the Nellie June Gray Professor of Economic Policy at University of Wisconsin-Madison. He was previously UW–Madison's dean of the College of Letters & Science and director of the Institute for Research on Poverty.
An economist, Scholz's work focuses on household savings, low-wage labor markets, financial barriers to higher education, and bankruptcy laws.
Scholz has also served in two presidential administrations, as senior staff economist at the Council of Economic Advisors from 1990-1991 and deputy assistant secretary for tax analysis at the U.S. Treasury Department from 1997-1998.
Scholz holds a B.S. in economics and mathematics from Carleton College and a Ph.D. in economics from Stanford University.