With the goal of infusing scholarship into practice, thousands of student affairs practitioners from colleges and universities across the nation gathered in Boston to strategize about the future of the profession.
Dozens of panel and plenary sessions were offered at this year's meeting of the National Association of Student Personnel Administrators (NASPA) including a panel titled, "Historic Role of University Presidents in Shaping Racial Policies and Practice," and keynotes by David Hogg and Jaclyn Corin, co-founders of the March for Our Lives. The two survived the school shooting at Stoneman Douglas High School in Parkland, Florida.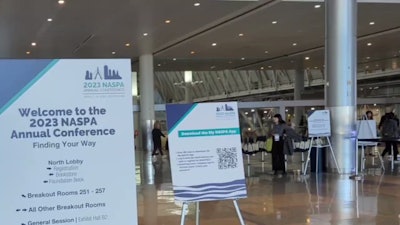 A panel titled, "Diversifying the Future of the Profession: On Mentoring, Mattering & Movements," was moderated by Dr. Terrell L. Strayhorn, a professor at Illinois State University and included student affairs leaders—all board members of the Dr. Melvin C. Terrell Educational Foundation.
The panel included Drs. Martino Harmon, Vice President for Student Life at the University of Michigan; Melissa Shivers, Senior Vice President for Student Life at The Ohio State University; Dawn Person, a professor at California State University-Fullerton and Terrell— Vice President Emeritus of Northern Illinois University—who founded the Foundation in 2007 to ensure that underrepresented students gain access and achieve success in higher education and student affairs.
"Fortunately, I have an ability to foster a culture of care and concern. Perhaps it comes from my family, I am the oldest of six," said Terrell. "This has translated as mentoring in my professional life. Mentoring remains one of the most viable and critical tools for professional development."
During Tuesday's panel discussion, Terrell encouraged student affairs professionals to go on and earn a master's and doctoral degree and then connect the research to the practice.
"My first NASPA conference was focused on the lack of current research on minority student retention. This was in 1988 when I was 29," he said. "Shortly thereafter, I decided to assemble key scholars to submit a proposal to NASPA on this crucial topic. It was accepted."
Terrell said that he went on to co-edit a book with Dr. Doris Wright, a professor at Kansas State University titled, From Survival to Success: Promoting Minority Student Retention.
Along the way, Terrell mentioned legions of students, including Martino who rose through the ranks to hold leadership posts in student affairs at Iowa State University before arriving at the University of Michigan in 2020.
"I have had all kinds of mentors, including mentors who did not look like me," said Harmon. "They have inspired me to move forward. That's what mentoring is all about."
Shivers said that the value of her work is that she is able to help create communities of belonging and inclusion.