North Carolina Agricultural and Technical State University (N.C. A&T) Chancellor Dr. Harold L. Martin, Sr., will retire at the end of the 2023-24 school year.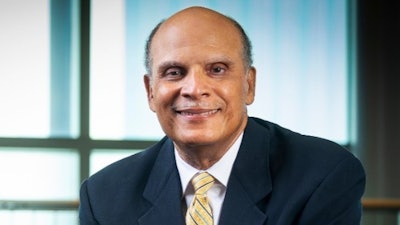 Martin – the first alum to lead N.C. A&T – is the longest serving chancellor in the University of North Carolina System and among the U.S.'s 107 HBCUs, having led the school now for 14 years.
During Martin's tenure as the head of the school, N.C. A&T has become one of the fastest growing universities in the U.S.; become America's largest HBCU; developed into the U.S.'s leading producer of Black STEM graduates; received record research and sponsored programs contracts and grants; and produced a $2.4 billion economic impact.
"Harold Martin is the very model of a devoted, effective public servant. He's a brilliant thinker, a disciplined leader and a great man," UNC System President Peter Hans said. "For more than three decades, he's been a friend, a mentor and an inspiration to students and colleagues across the UNC System.
Joining N.C. A&T as an engineering professor, Martin subsequently stepped into the roles of college dean and vice chancellor for academic affairs. And after his time as chancellor of Winston-Salem State University, he became the UNC System's senior vice president of academic affairs.
"Throughout his 35-year career within the UNC System, Chancellor Martin has championed affordable, accessible public higher education, helped North Carolina A&T to become the largest HBCU in the nation and cemented the institution as an education and research leader in science, technology, engineering and mathematics," said UNC Board of Governors Chair Randy Ramsey "The impact of Chancellor Martin's career is felt far and wide, and we are indebted to him for his service and commitment to our students. We offer our deepest thanks to the chancellor and wish him all the best for retirement."
Martin holds bachelor's and master's degrees in electrical engineering from N.C. A&T and a Ph.D. in electrical engineering at Virginia Tech.