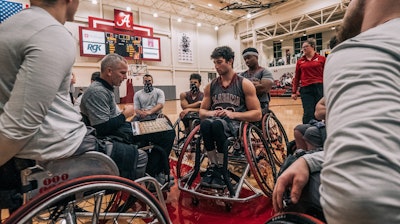 Several colleges and universities around the U.S. have developed athletic programs for disabled athletes. These not only create a greater sense of belonging for all disabled students on campus, but also serve as inspiration and motivation for their local communities. Adaptive or adapted athletics are sports and facilities adapted to accommodate various disabilities.
All those involved in adaptive athletics interviewed for this article note that involvement in sports increases self-esteem and enhances quality of life. One of the most established programs, the University of Alabama Adapted Athletics (UAAA) program was founded in 2003 with women's wheelchair basketball. In 2018, UAAA opened the Stran-Hardin Arena, a multi-purpose, state-of-the-art facility for adapted athletes. It includes a training room with high performance training equipment. The Parker-Haun Tennis Facility for adapted student-athletes opened in 2021.
"We bring a unique and diverse sport to the university," says Kellcie Temple, UAAA marketing director. "Our main goal is to give the same opportunities to our athletes that the rest of the athletes have. We strive to do that every day. … We have a really cool opportunity to give these athletes the ability to sweat and be physically active."
Research
In July, the University of Houston (UH) played host to the U.S. Tennis Association/International Tennis Federation Junior Wheelchair Tennis Camp for young players ages 11-18 from around the world. The university's adaptive athletics program oversaw the camp's day-to-day activities.
UH's Adaptive Athletics, established in 2013, is committed to creating opportunities for people with disabilities. In addition to sports offerings, UH's Adaptive Athletics also functions as a research laboratory and an academic course within the department of health and human performance. The research of Dr. Michael Cottingham, associate professor at UH and director of adaptive athletics, focuses on disability sports, how society sees disabilities and how access improves quality of life issues. Students in his course run events, such as the tennis camp, which is educational for them.
Cottingham says universities may hesitate to invest funds in an adaptive program that serves only 12 or so students but adding in a research component and recruitment potential makes it more viable.
"Studies have to get done to be able to say, 'Every student that those 12 students interact with is now going to know someone with a disability,'" says Cottingham. "On the campus, you broaden the way that disability is seen. … We realize that we have to have supportive structures because these are not just legal expectations, but these are individuals that have unique experiences and social barriers. We need to be thoughtful in thinking about disability as a form of diversity and as a demographic group and create environments where people can come together.
"We're hopefully starting a study on this in the spring where we're actually able to measure institutions that have these programs, institutions that don't have these programs and how they are different," he continues. "The projects I'm working on right now are specifically looking at what does diversity look like in disability sport? What are the experiences of female athletes with disabilities or athletes of color or members of the LGBTQ community? What is that dynamic like? There are a lot of great questions to answer."
Competition
The adaptive tennis program, with bilingual instruction, is the most established program at UH. The adaptive rugby players receive some university support but compete as part of a community program. The tennis team is a school team open to students and community members for competition in USTA wheelchair events. Students are additionally supported and are eligible to compete in collegiate wheelchair nationals.
"Employment rate pre-pandemic was at about 96.8%. For wheelchair users it was 18%," says Cottingham. "Less than one in five wheelchair users was employed. For those who participated in sport, that number goes up to 64%. … To be involved in our tennis program, you have to be actively working on some sort of educational goals and be able to document that, and you have to attend practices."
UAAA has competitive men's and women's wheelchair basketball teams and a coed tennis team, which are housed in the university's College of Education. It is working toward adding track and swimming by 2025. As with most schools that have adaptive sports, there is no direct connection to the university's athletic department, but some student-athletes have been supportive.
"We don't get as much exposure as we would like," says Temple. "We navigate the best we can."
Auburn University Adapted Athletics, established in 2010, is a collaboration between the university's office of accessibility and the School of Kinesiology. The mission is to offer equal athletic opportunities to student-athletes with disabilities while promoting health, wellness and disability awareness. It has a wheelchair basketball team, which is open to women, but thus far only two women have taken part, and a coed wheelchair tennis team.
"We have hopes of starting a women's basketball team at some point when we have the interest here on campus and can make sure we have funding," says Zach Dickey, wheelchair basketball assistant coach and former team member. Dickey recently completed his bachelor's degree at Auburn and will be a graduate student in the fall.
Much of the staff serving the student-athletes are graduate students in the School of Kinesiology. Dickey says that provides those participating in adapted athletics full-time athletic trainers and strength and conditioning coaches. The wheelchair basketball team promotes itself in various ways, including reaching out to fraternities and sororities and doing targeted ads on social media. Attendance has increased.
"The Auburn family loves winning and our goal is to win," says Dickey. "It's a community for disabled students to explore and it's representation for disabled students."
Access
The adaptive athletic programs in this article do not train alongside their university's athletic department. At UH, they use the campus recreation and wellness facilities. The wheelchair basketball team at Auburn plays at Beard-Eaves-Memorial Coliseum, which formerly served as the athletics arena, but now is more an events space. Through fundraising it has an upgraded, accessible weight room.
Dickey has seen some racial and ethnic diversity in adaptive sports but not as much as he would hope to see. "It's tough in wheelchair sports at the youth levels mostly because…the more expensive a sport can be it seems unfortunately that it becomes less diverse," says Dickey. "Some communities are lucky enough to have an adaptive sports program that reaches out to the community and can provide equipment, pay for travel expenses and that kind of stuff, but that's not everywhere.
"I would like to see change at the youth levels," he continues. "That is something I'd like to work toward, starting more youth programs in areas that are traditionally underrepresented."
Young athletes, collegiate and aspiring collegiate athletes in need of wheelchairs or prosthetics suitable for sports as well as equipment can apply to the Challenged Athletes Foundation (CAF) for individual grants. CAF provides opportunities for and support to people with physical challenges so they can pursue active lifestyles through physical fitness and competitive athletics.
The foundation has not been deeply involved with collegiate programs but has worked with San Diego State University (SDSU) on youth track and field. Eva Kristof, regional programs and community relations manager for the CAF, previously served as the programs coordinator in San Diego, running high school adaptive sports programming (primarily track and field). She praises SDSU and other universities that have adaptive sports teams and says some high schoolers do state an interest in attending such institutions.
"I've had the pleasure of watching a lot of middle school and high school athletes really gain a lot of confidence, relationships and, of course, athletic experience through participating in sport," says Kristof, who notes the rapid growth of youth adaptive sports programs. "For those who want to continue after high school at a higher level, it would be so beneficial for more colleges to have offerings and opportunities for those individuals."