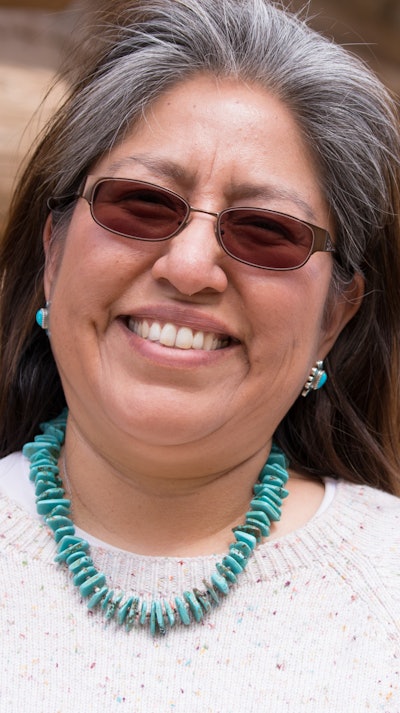 Dr. Henry Fowler, an associate professor of mathematics at Navajo Technical University and adjunct faculty at Fielding Graduate University, and Dr. Miranda Haskie, professor of sociology at Diné College and adjunct faculty at Fielding, recently joined some 120 participants of the Sixth Annual Navajo Education Conference held at the Navajo Nation Museum in Window Rock, Ariz.
With COVID-19 protocols in effect, Fowler and Haskie co-facilitated a Navajo cohort of doctoral students at Fielding, a private graduate-level university that has an Indigenous partnership with Navajo Nation. Haskie led the session, "An Intergenerational Journey Preserving the Navajo Language."
"There have been recent efforts for language revitalization," says Haskie. "That's particularly important as we experience a decline in the number of speakers in our heritage language (Diné). On top of that, the majority of people who passed during the pandemic were the Navajo elderly population, and they're the predominant speakers of our Navajo language."
Fielding has trained scholars such as Haskie to do research in this area and provides scholarships so students can pursue doctorates in educational leadership and change at the School of Leadership Studies.
The conference was developed so that research could be shared with Navajo educators of all levels. Conference presenters included Navajo graduates of the doctoral program at Fielding. Haskie presented her current research and efforts to preserve the Diné language, which includes a three-week Navajo Language Immersion project at Diné College and a six-year Navajo Oral History Project between the college and Winona State University. The collaboration led to 27 living histories of Navajo elders.
Haskie says conference participants included "Navajo Nation-wide and border schools that serve Navajo students to give them an opportunity to hear about the research we've conducted." She says the research "related to Navajo studies in multiple areas, like Head Start, incorporation of Navajo culture in the curriculum, how Navajo philosophy supports the holistic student and helps them excel academically."
Haskie's many resources of Navajo language include the Navajo dictionary by Young and Morgan, which her grandfather was instrumental in creating by serving as an interpreter. She has presented her research at colleges and universities across Arizona and is often asked to provide instruction to non-Navajo teachers who may teach at schools with Navajo students.
Transformative influences
Dr. Michelle Tsosie presented her doctoral dissertation research, The Transformative Influences of Stories in the Lives of Navajo Women: A Narrative Inquiry. The purpose of the study was to investigate how Navajo women's lives have been influenced by their Navajo culture, traditions and stories learned from their families and Elders. Tsosie is a speech language pathologist who works with children at Navajo Nation schools.
Tsosie was interested in how stories and communication were meaningful to each of the women she studied. There were many stories, both short and long, that showed how Navajo women are connected with the whole and one another through the stories. The stories from this study can assist Navajo people in the future in knowing about the people of today.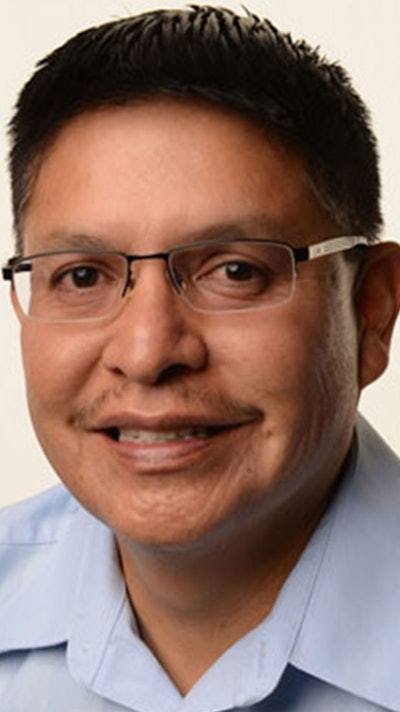 "I would hope that my dissertation research is accepted by the Navajo Nation," says Tsosie. "I'm so thankful that the women interviewed with me. I had questions that led to a lot of dialogue and conversation.
"I'm so excited to show the educators perhaps that there are different ways of seeing ourselves," she continues. "To use these teachings in their teachings to young children; even for me to work with children in a different way or explain to them, 'This is something that has been passed down for generations.'"
This fall, Tsosie is working with two K-8 schools of about 300 students each as a speech language pathologist.
"In this digital age, now we have the internet," adds Haskie, whose son at times co-presents with her. He uses technology by creating short videos to reach Navajos who live in urban areas and have a desire to reconnect.
Educators, like those attending the conference, are interested in research such as this.
"There is excitement in seeing Navajo scholars conducting research in and about Navajo studies as it relates to the field of education and generating new ideas that they might include as part of their own curriculum," says Haskie. "It can motivate student learning."
There is also collaboration with other Native nations on educational issues from PreK to higher education.
"As educators, we try to cross-share those strategies that work for us that they might employ and vice versa," says Haskie. "This conference [provided] opportunities to invigorate curriculum and incite creativity and innovation in the development of lesson plans."