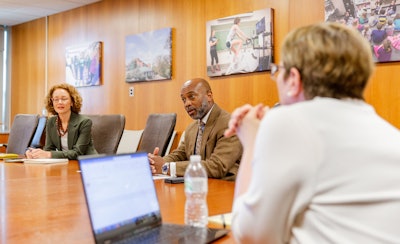 Dr. Jerlando F. L. Jackson's ascension to the deanship at Michigan State University (MSU)'s College of Education back in July is one of those full-circle moments "that got reversed, and put on pause, and then back together," as he likes to tell it.
Jackson's journey to Michigan State began — in earnest — some two decades earlier, when the young Jackson embarked on an ambitious research agenda of studying education deans as a doctoral student at Iowa State University.
So impressive was Jackson, that he would receive a tenure-track job offer as an assistant professor that included a role as an assistant dean with a joint appointment in the school of public policy at an elite private institution in the Northeast, two years before he would even commence work on his dissertation.
"I wanted to be a tenure track assistant professor and assistant dean because I saw examples where that combination led to a dean's position within a 10-year period," says Jackson, who was under the tutelage of Dr. Walter H. Gmelch, who, at the time, served as dean of Iowa State's College of Education and had emerged as a national expert on college deans. "I was studying decanal work and that was what I wanted to do."
But after politely turning down the job offer so that he could finish his doctoral studies, it suddenly became clear to everyone at Iowa State that, once he earned his Ph.D., Jackson would be able to secure a job of his choosing. Indeed, the possibilities were seemingly going to be endless for him, even if the Fort Benning, Ga., native didn't fully understand it at the time.
Falling in love with the work of the professoriate
While becoming a dean of a college of education was an early aspiration, that career trajectory took a detour once Jackson joined the faculty at the University of Wisconsin-Madison some 22 years ago.
"I just fell completely in love with focusing on the research, working with students, teaching classes. It was like, 'Who was hiding this from everyone?'" Jackson recalls, adding that, at some point, he actually abandoned the idea of the deanship. "I gave up. I said, 'I'm just going to focus on studying this stuff and was perfectly okay with not doing it.'"
The first African American in the Department of Educational Leadership and Policy Analysis to earn tenure and be appointed to a named professorship, Jackson would eventually work his way up the ranks of the faculty, ultimately securing the rank of full professor and taking on the role of department chair.
"I couldn't run fast enough and got snagged to be the department chair, reluctantly," says Jackson matter-of-factly. "It was in doing that role where my interest in being a dean was rekindled. It rekindled because others started to suggest it, and so it was during that journey that interest re-sparked and then the fire started to burn high enough that I said, 'I'm going to go for it.'"
In between, Jackson maintained a productive research agenda, pumping out books and scholarly articles and securing millions in research for Wisconsin's Equity and Inclusion Laboratory, where he served for 13 years as founding director and chief research scientist. He also put a public focus on the plight that impacts Black males globally with the creation of the International Colloquium on Black Males in Education, which he still leads with his friend and longtime collaborator, Dr. James L. Moore III of The Ohio State University.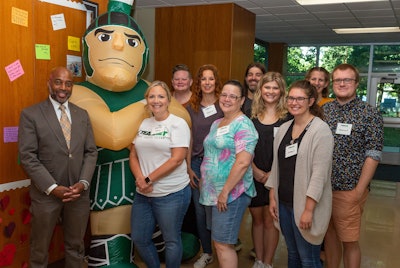 Refocusing on the deanship
After several years as department chair, Jackson had started to think about what was next for his budding career and vowed that the time had come for him to pursue the deanship seriously.
"I wasn't interested in only being a dean of education," he says, sitting inside of his spacious office on a recent afternoon after a whirlwind of meetings with faculty members, representatives from the athletics department and staff who marvel at his punishing schedule. "I wanted to be a dean at a college or school of education that mattered."
Michigan State University stuck out right from the start.
"As I looked at the opportunity from an objective standpoint, it, to me, seemed to rise to the top of opportunities because it was a highly regarded college of education," says Jackson. "It is a college that has well-respected departments, well-respected professors and has, quite frankly, a laundry list of amazing graduates who are throughout the education footprint making a difference."
To Jackson, MSU seemed to be a place poised to take additional steps forward and the fit started to emerge more and more as the search process got underway. MSU's designation as a land-grant institution resonated with Jackson, who had spent much of his academic career working and studying at land-grant institutions.
MSU, he says, was the prototype for land-grant institutions across the nation, and in the early days of its founding, MSU students had to work up to four hours a day while completing their studies.
"It said to me that hard work was in the DNA of the institution," says Jackson. "It reminded me of that feel, touch, and access that land-grant schools provide and that it's a pride point for Michigan State. They carry out their work where access is a priority, but excellence on the back end is also a priority."
Making history
After a national search, Jackson was appointed dean of the College of Education at MSU, breaking barriers as he did at the University of Wisconsin-Madison, to become the first African American to lead the college which boasts 468 tenure system faculty, fixed-term faculty, academic specialists, and support staff. The college, which enrolls 2,126 undergraduate students, 801 graduate students, and 182 students pursuing a graduate certificate, is bigger than some institutions across Michigan and the U.S. The unique departments, programs, and faculty are garnering the MSU College of Education national accolades.
Earlier this year, for example, Dr. Aman Yadav, who is the Lappan-Phillips Professor of Computing Education, was named the first-ever associate director at the CREATE for STEM Institute, a collaboration between the College of Natural Science and the College of Education that seeks to improve teaching and learning in the STEM disciplines for students from grades K-16 across the city of Detroit.
"Dean Jackson is an amazing visionary and thoughtful leader that we wanted for our College of Education and so we are excited to have him here now and that's who we needed and who we wanted from the get-go," says Yadav, who served on the search committee that recommended Jackson to university leaders.
As MSU, like so many other institutions, looks to rebuild in the wake of the COVID-19 pandemic, Jackson will "take us to the next level," says Yadav, adding that he's encouraged by Jackson's vision that "focuses on educating the whole being within K-12 and beyond."
Dr. Sheneka Williams, a professor and chair of the Department of Educational Administration at MSU, came to know Jackson tangentially when she was a graduate student at Vanderbilt University about 20 years ago. She recalls appearing on a panel with him at the American Educational Research Association (AERA) and following his research in the years following.
An expert on rural education and school desegregation, Williams arrived at MSU as department chair a few years ago after serving on the faculty at the University of Georgia.
"When I got a call to interview here for department chair, I called [Jackson] because I knew he was a Big 10 department chair and I wanted his perspective, someone coming from the South, what might it mean to be a department chair at a Big 10 institution" recalls Williams, not knowing that years later Jackson would emerge a top candidate in the dean's search pool.
"I know in his own work, he is pretty STEM focused and we have some dynamic work growing here in that area," she says. "Michigan State College of Ed has always been on the cutting-edge and I don't know that people really know that, and one of the things that he wants to do is make sure that the nation and the world really know that, but then, how do we continue to up the ante?"
Staying competitive will undoubtedly mean raising resources to increase MSU's profile both domestically and internationally. As a land-grant, it's a "delicate dance," as faculty and administrators see it. While there is a commitment to serving the state of Michigan, there is a growing appetite to bolster MSU's reputation both nationally and internationally.
The Department of Kinesiology, for example, is housed in the College of Education and Jackson sees this academic unit — and the interdisciplinary nature that it provides — as an opportunity for collaboration across the College of Education. Joint degree programs and centers, he says, are added assets.
"As a scholar that is focused on the scientific workforce and one that is a member of the American Association for the Advancement of Science as a fellow, that has been one of the most rewarding and, quite frankly, one of the most exciting parts of the job because the interdisciplinary spirit in colleges and schools of education is what makes them special," he says.
Because he has served as a department chair, Jackson fundamentally understands how best to support the front-line faculty who provide oversight of academic programs that enable students to move through degree programs to earn a degree.
"The oversight is scaled up tremendously," says Jackson, who notes that understanding the role that staff plays in the day-to-day of a college of education as large as his is critically important.
"You immediately understand, and if you didn't appreciate before, you will develop an appreciation, for the gaps that staff fill," he says.
Jackson says that running his own research lab and the revenue generation that came with that has also helped him to understand the importance of being self-sustaining.
"Revenue generation is going to be a very common term in colleges of education in the years to come," he says. "That mindset was not new to me."
With just four months on the job, Dr. Teresa K. Woodruff, MSU's provost, says that she is impressed with Jackson's vision.
"Dean Jackson is proving to be a transformative dean for our top-ranked college of education," says Woodruff. "His scholarly vision and catalytic energy are creating new opportunities for training the next generation of educators, influencing thought leaders across the university, and fostering innovative connections and synergies with our College of Natural Science and Department of Intercollegiate Athletics."
Woodruff adds that she is excited to support Jackson's vision and believes "the best is yet to come for MSU and our College of Education."
Fitting in
A conversationalist, Jackson has the natural ability to engage with almost anyone. It's an attribute that even those who knew him when he was pursuing a master's degree in higher education at Auburn University in Alabama seem to remember.
At a recent awards dinner to honor outstanding MSU alumni, Jackson was comfortably seated next to William Mayes, a 1974 graduate of the College of Education who would go on to serve for many years as executive director of the Michigan Association of School Administrators. In 2015, he was presented with the Distinguished Alumni Award and returned to campus a few weeks ago to celebrate this year's cohort of honorees.
Jackson easily won him over at their first meeting. "I really like Dean Jackson," Mayes told his wife, sitting beside him at the dinner table. "He has an outstanding vision and is just so easy to talk to."
On the following day, Jackson was in his seat at the Spartan Stadium surrounded by a sea of green. The marching band, in particular, seemed to capture his attention as the more than 70,000 fans cheered on the Spartans as they struggled to survive a devastating blow from the Minnesota Golden Gophers. Perhaps the band transported Jackson back to the days when he was a music major at the University of Southern Mississippi and played in the drum and bugle corps.
After more than two decades of cheering for the Wisconsin Badgers, Jackson — now sporting a white MSU baseball cap — seemed resolute in his response to all those who greeted him on this brisk, fall day.
"Go Green," they tell Jackson, repeating the school's mantra.
Jackson, without missing a beat, smiles and nods. "Go White," he says.
This is the first in a series of articles focused on Dr. Jerlando F. L. Jackson's first year as dean of the College of Education at Michigan State University