With downtown San Antonio as a beautiful backdrop, representatives from 24 community colleges in 13 states convened for the 29th Annual Community College Futures Assembly in February. Project management teams gathered with palpable energy and excitement to vie for the nationally recognized Bellwether Award, which focuses on cutting-edge, trendsetting programs worthy of replication..
The Futures Assembly, a competitive three-day gathering, serves as the finale of a rigorous two-round evaluation process. The consortium invites select higher education leaders to serve as judges who evaluate a national pool of 30 highly successful programs deemed Bellwether Finalists and choose three Bellwether Award winners.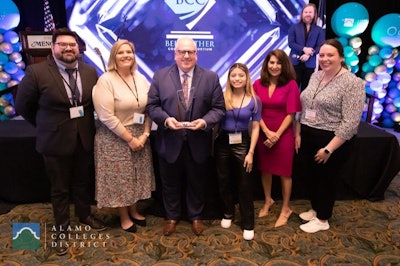 "These community colleges represent the gold standard in innovative, transformative instructional models worthy of replication," states Dr. Rose Martinez, director of the Bellwether College Consortium. Ten top-scored community college programs compete in one of three award categories — instructional programs and services, workforce development, and planning, governance, and finance.
Competing teams vie for both the Best in Showcase Award and the respected Bellwether Award. Bellwether Award criteria include addressing a critical issue with an innovative response that is replicable, scalable, equity-focused and demonstrates data-evidenced success. Showcase winners are selected based on a short elevator pitch of their innovative program, a table-top poster elaborating on each judged criterion, and the college representative's ability to address all program-related questions comprehensively.
The 30 Bellwether Finalists offer insightful solutions to present-day challenges. Examples of this year's submissions include a high school dual credit program that provides career tech education, a workforce development program that addresses skills gaps and imparts employability skills and practical employment experiences, a dental hygiene program that incorporates community service and dental care for children, and a post-degree teacher certification program that addresses the nationwide teacher shortage.
The 2023 Bellwether Award recipients were from New Jersey, Georgia, and Texas.
• Hudson County Community College (N.J.) won for its submission, Hudson Scholars, in the award category of Instructional Programs and Services;
• Atlanta Technical College (Ga.) won for its submission, The Atlanta Technical College Center for Workforce Innovation in the award category of Workforce Development; and
• Alamo Colleges District (Texas) won for its submission, Fulfilling the Higher Education Promise through Off-Campus Work-Study Employment, in the award category of Planning, Governance, and Finance.
"Students are eager to participate and work in off-campus work-study jobs that are relevant to their major, and employers are excited to participate in a program that allows them to post positions, interview students, and hire these part-time employees at minimal or no cost to them, as federal financial aid funds pay the majority of the wages," explains Dr. Martha Trevino, director of workplace learning at Alamo Colleges District.
Dr. Rose M. Martinez serves as director of the Bellwether College Consortium.
The Roueche Center Forum is co-edited by Drs. John E. Roueche and Margaretta B. Mathis of the John E. Roueche Center for Community College Leadership, Department of Educational Leadership, College of Education, Kansas State University.