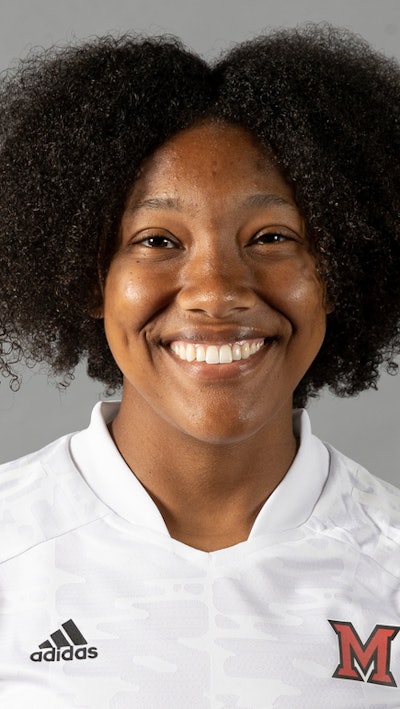 Spring is a busy time for Miami University soccer midfielder/defender Camber Hayes, who has been named the 2023 Arthur Ashe Jr. Female Sports Scholar of the Year. As team captain since the second semester of her freshman year, she is focused on her training so she can give a top performance come soccer season in the fall. She also studies intently to maintain her 4.0 GPA and be a top candidate for veterinary school, which she hopes to enter after graduation next year.
"My parents instilled in me that academics come first," Hayes said. "If I didn't have my homework done before practice, I wasn't going. That was a big push for me to focus on school and that laid the foundation for me to manage my time right."
Among Hayes' honors, she has been All-Ohio Academic 1st team, 2022 Miami President's List (top grades in the major) for the past five semesters and three-time Academic All Mid-America Conference. On the field she earned 1st Team All-Mid-American Conference this past season, All-Ohio First Team and United Soccer Coaches NCAA All-Midwest. For her academic and athletic excellence, Hayes is the 2023 Arthur Ashe Jr. Female Sports Scholar.
"She's not a super vocal person, but she has so much respect from her teammates just because of how hard she works," said head soccer coach Courtney Sirmans. "She is extremely intelligent in soccer and probably could easily tell all her teammates what they should be doing, but she doesn't do that. When she does say something, everybody is all in."
The third of four children, both of her parents were competitive athletes in high school, but neither knew anything about soccer. Her older brother, Jacori, was the first to discover the sport. Following what her older siblings did, she took up soccer, quickly finding her own passion for the sport. Jacori and older sister Carmyn both played soccer in college, so she knew she too would be a student-athlete.
Growing up in Bowie, Maryland, Hayes wasn't aware of Miami University (Ohio) until a recruiter reached out after seeing her play in a soccer tournament. Her parents encouraged her to visit the campus, and the minute she stepped on campus she felt welcome, especially by the coaching staff.
"Other schools didn't promise to develop me as a person and player as Miami has," Hayes said. "They have gone through individual film with me and done individual workouts, one-on-one with me and the coach, which I think is incredible. … Miami has helped me continue my development."
Sirmans said Hayes has improved every year and that she asks really great questions and is always challenging herself. "She's never satisfied, and as a coach that's all you can ever dream of from a student-athlete," Sirmans said.
Hayes appreciates the academic support provided to student-athletes. She also said her professors have been very responsive to her needs. "I miss so much class in the fall, and they are so helpful," she said. "I really value that."
Community service has played a big role in Hayes' life. Throughout high school she volunteered at Doctor's Community Hospital in Lanham, Maryland. Starting in high school and continuing to this day, she also volunteers with Feed the Hungry, which prepares and distributes food to marginalized populations. During soccer season, there are community service hours that the team does, and she helps at the university's volunteer farm, with some of the food going to food banks.
She has wanted to be a veterinarian since she was a kid. Shadowing practicing vets has enhanced her determination.
"My drive to do what I know I'm capable of doing in the classroom as well as performing in athletics and doing what I am morally responsible to do, giving back to my community, helps push me," Hayes explained. "It's definitely not easy, but I feel I'm capable of doing it, so why not?"