In a career that has included both academia and the private sector, Dr. Teik C. Lim is now leading the New Jersey Institute of Technology (NJIT) into the future.
Growing up in Malaysia, Lim wanted to skip college, join the military and pursue the dream of becoming a pilot. Unfortunately, he could not meet the 20-20 eyesight requirement. Thankfully, he moved on to Plan B.
"I then thought, because I was very good in math and science, perhaps I could become an engineer and design an airplane for others to pilot," said Lim, who joined the NJIT in July 2022 as its ninth president and a distinguished professor of mechanical engineering. He attended a school that specialized in science and while still a teenager in 1983 came alone to the United States to pursue higher education.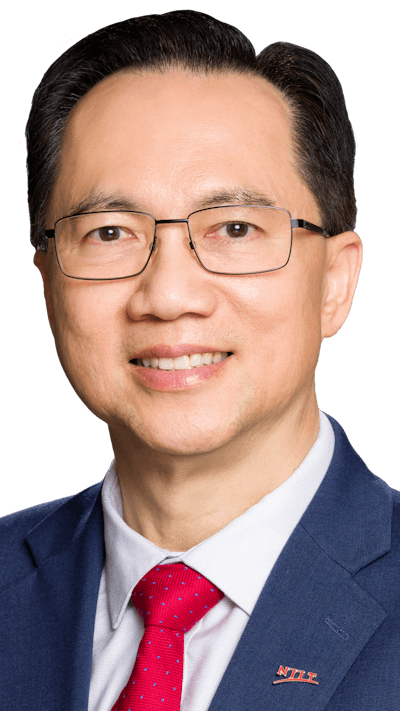 "My family did not have much money, but with the help of a generous undergraduate scholarship from Michigan Tech, I was able to support myself through college and become the first member of my family to earn a college degree," said Lim. "That began my pathway forward and my love of engineering."
After receiving his B.S. in mechanical engineering from Michigan Technological University, his master's degree in mechanical engineering from the University of Missouri-Rolla and his Ph.D. in mechanical engineering from The Ohio State University, Lim entered the private sector as an engineer at Structural Dynamics Research Corporation. He was subsequently a research scientist at The Ohio State University Center for Automotive Research.
In 1998, he began teaching at the University of Alabama, and then joined the University of Cincinnati in 2002, where he rose to full professor, department head, associate dean for graduate studies and research, and ultimately dean of the College of Engineering and Applied Science. Prior to his NJIT presidency, Lim was the interim president of the University of Texas at Arlington after having served the university as provost and vice president for academic affairs.
"Throughout all of my higher ed positions — department head, dean, provost and now president — I have continued to be involved in research by advising graduate student thesis or dissertation work," said Lim, who has been extensively published and presented at more than 100 conferences. "I also kept up with the published literature, attended technical conferences and engaged with industry. In fact, because of these involvements, I have been able to continue my professional engineering registration in several states.
"Like most people, I did not set out to lead an institution of higher education," he added. "I have, however, been blessed with two such opportunities that resulted from an evolution which occurred over many years and consisted of exposures to varied life experiences, lessons learned and intense preparation of the mind and heart that readied me for opportunities to lead as president."
Lim said he and wife Gina are loving life in the Northeast. They are attracted to the vibrance of the campus and the diversity at NJIT and in the state of New Jersey. There is also the proximity to family, particularly grandchildren who reside in Brooklyn, New York.
Managing change
He understands that the last three years have been incredibly challenging for all higher education stakeholders, who have had to shake off the general notion of evolving at a slow pace. There has been a digital revolution, said Lim, and NJIT is taking the necessary steps to use this revolution as a springboard for mutually beneficial new alliances across sectors as well as internationally.
"This isn't just about delivering more classes online," Lim explained. "It's about making knowledge, content, information and technology available and actionable in ways that are not limited by geographic location or time. It's about developing new and exciting collaborations that break down barriers between industries and sectors to seize upon common interests, goals and complementary capabilities. It's about preparing our students to thrive in their careers and throughout their lives, because they have experiences and exposures that ready them for a rapidly evolving world."
As Lim approaches the end of his first year leading NJIT, he is pleased with how it has gone, but not complacent. Applications and enrollment are at record highs as is the diversity of the student body. Research activity is ahead of last year. Venture capitalist John Martinson is donating $3 million to NJIT to broaden and deepen the curriculum and real world experiences for top scholars at the Albert Dorman Honors College and throughout the university. Searches for several senior-level positions, including provost, vice president for digital strategy, chief diversity officer and vice provost for enrollment management have been completed.
Lim amplifies NJIT's progress in posts on social media, shining a spotlight on the institution's bright lights who are accomplishing positive things. Social media is also a way to express appreciation for colleagues and collaborators.
The strength of diversity
As a young person in Malaysia, Lim personally encountered a great deal of prejudice because of his Chinese ancestry, and he has also experienced bias in his life in the U.S. He said those experiences have helped him have deep appreciation for the value and strength of diversity.
"Learning happens when we are exposed to a broad array of perspectives and have the opportunity to share information and knowledge gathered through our lived experiences," Lim said. "It has been documented exhaustively that diversity contributes to positive learning outcomes, and work teams that consist of individuals with varied backgrounds, perspectives, ethnicities, races, belief systems, cultures and socio-economic statuses are proven to achieve greater results than those that lack such diversity."
Diversity of thought and experience are crucial in a technical institution, which is why Lim is so pleased with the diversity of NJIT. He is committed to bringing more women and underrepresented minorities into the STEM disciplines and fostering a sense of belonging on campus so everyone can thrive.
The hiring of NJIT's inaugural chief diversity officer is a major step, and associated programming and training for members of the campus community have been well received. Lim envisions building on this foundation to ensure that NJIT is an institution where opportunities exist for all who bring talent and work ethic.
"NJIT does not stand still, and I have a vision for NJIT's future that builds upon its current strengths and positions us to seize the opportunities that will present themselves," said Lim, explaining that this will begin with a new strategic plan, which is currently underway. It includes embracing the digital revolution and using it as a means of building exciting new collaborations. It also involves exposing students to experiences relevant to this rapidly evolving world, so they are career ready.
Another core initiative of the presidency is making sure that NJIT is accessible to students of all backgrounds, including low-income students, and fostering a welcoming and inclusive campus community.
"Finally, we must keep a laser focus on moving the metrics that define student and faculty success, such as graduation and retention rates, starting and mid-career salaries for alumni as well as research productivity and teaching quality for faculty," Lim said. "These core initiatives will strengthen NJIT by attracting resources and talent, fostering collaboration and enhancing our university's impact on the world."