Carrie Forsyth has led UCLA's women's golf team to two NCAA championships, five Pac-12 titles, more than 100 All-American awards, and at least half a dozen conference Golfer of the Year accolades in 24 years as the program's head coach.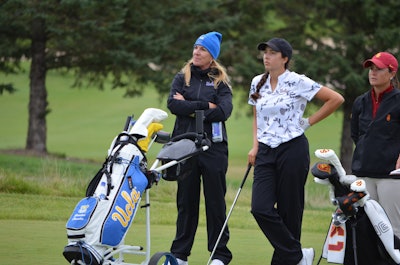 Although she thinks of these accomplishments as "great successes" and "moments [that] stay with you forever," she said those victories aren't what the veteran golf coach holds most dear.
She said she cares most about the bonds she built.
"I think the thing that is the most meaningful to me has been the relationships that I've developed with our student athletes who are now our alumni, and many of our staff and coaches at UCLA," explained Forsyth. "It's just a phenomenal place to be.
"The people that I've been able to work with, the athletes that have put their trust in me over all of these years, those people are really meaningful," she continued. "Those relationships and those people, those are the things that really bring me joy and pride, more so than the wins and the accomplishments."
Forsyth is retiring, ending her term as leader of Bruins golf with the 2022-23 season. She is a longtime Bruin; she played as a student athlete for the Bruins' women's golf program from 1989-1993. But golf has been a throughline in her life far longer.
"I grew up playing golf," Forsyth said. "My parents were a little older. I was the youngest child in a family of 14. And so, my parents, by the time I came around, they were ... slightly beyond middle-aged. Golf was their sport. They weren't soccer parents. They didn't do volleyball, [weren't] about baseball. They were golfers themselves."
Golf was fun and competitive, Forsyth said. She began competing in tournaments in her youth and was eventually recruited by UCLA to play golf, where she received a bachelor's degree in psychology. While playing, she was appointed student assistant coach for the 1993-94 season.
Later, she was presented with an opportunity to be head coach at California State University, Northridge (CSUN,) a role she served in from 1996-99, before becoming head coach for UCLA in 1999.
"I thought about my coach, who had been a mentor to me," Forsyth said. "I thought maybe this is something that I would like to do. I could enjoy this and still be a part of the sport that's done so much for me in my life. It just was a really natural evolution honestly."
Forsyth's coaching career is gilded with accolades, including the NGCA Coaches Hall of Fame in 2011; WGCA's National Coach of the Year in 2004; and Golfweek National Coach of the Year in 2011.
Forsyth plans to move into a new role as special assistant to Martin Jarmond, The Alice and Nahum Lainer Family Director of Athletics. She hopes to continue supporting UCLA's golf programs, she said.
"I'm an old-timer. I've been around forever," Forsyth said. "So I think I have some knowledge and some information and things that can be helpful to our younger generation of coaches that are coming up. Hopefully, my new role will allow me to be helpful in basically whatever way the department needs me to."
Forsyth leaned into a common adage as advice for those seeking to achieve career satisfaction as she has.
"If you have the opportunity to do something that you love and pursue an area that brings you joy and you have passion for, I think that that's the way to go through life," said Forsyth. "Working and the demands that get put on you as an adult in the world, raising families, having to make a living, and do all these things, there's a lot of stress and strain in that.
"But if you're able to be in a field that you enjoy and that you want to do and you feel that you can contribute to in a positive way, that is just the ideal situation," she continued. "My recommendation would be just to make sure that if you're going to put that time and energy into it that it's something that you really love to do. That way, that old saying, 'You never work a day in your life,' I think that's true."