Dr. Timothy Alvarez's life is a living example of the importance of mentors in higher education.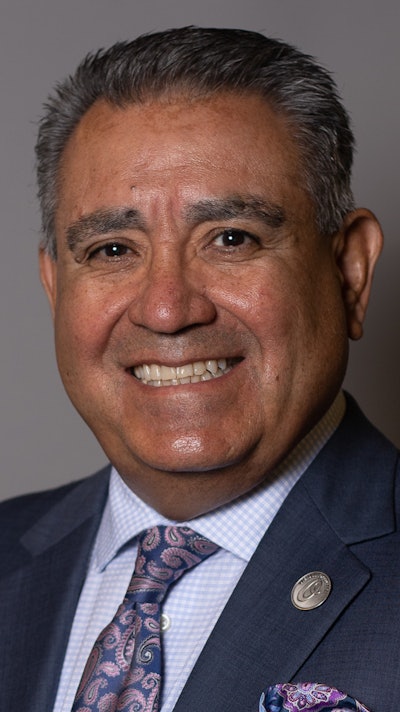 From earning an associate degree to serving as president of a community college, Alvarez understands the value of higher education and the need to create pathways and support systems. As he prepares to retire Aug. 11, after five years as president of Otero College, which is part of the Colorado Community College System, he does so with a sense of satisfaction that he followed his desire for knowledge and a sense of purpose.
Among the highlights of his presidency is serving a diverse student population. Otero is a Hispanic Serving Institution (HSI). As a result, the college received a Title V grant, $3.5 million over five years, that enabled the school to focus on mentoring, professional development for faculty and undergraduate research. Over the course of his presidency, Alvarez has tried to accentuate the college's HSI status and effectively serve that constituency.
"We're one of the few rural schools in Colorado that actually has a full-time licensed mental health professional," Alvarez said. "Knowing all the challenges that our students are going through — much more since COVID — it's so important."
Otero is a residential college in La Junta, Colorado. In addition to more than 30 academic and certificate programs, there are bachelor's degree programs offered in collaboration with Colorado University, Denver. The T-PREP (Partnership for Rural Educator Program) allows students who want to remain in the local community to earn a four-year degree and a teaching license.
"Really delighted to do that knowing how challenging it is for our rural schools to have teachers," Alvarez said. "We had seven students graduate this year from that program with CU and all of them are working as teachers in our area. That shows we're really trying to serve our local rural populations."
Career readiness has been a big issue for Alvarez, and he has increased relevant programming. The college has developed some micro-internships at which students can work 10-hour to 40-hour paid internships to gain experience. There are also opportunities for students to do a five- or six-hour virtual internship.
Alvarez said the pandemic did not immediately impact Otero. The college remained open with strict protocols, although there was a lot of remote work. The campus typically serves about 1,100 students across a rural area.
Although it was difficult to sustain a sense of community when people were working remotely, "I was still very proud of our faculty," Alvarez said.
Before coming to Otero, Alvarez was a senior fellow for NASPA (student affairs administrators in higher education) and a vice president for student affairs at North Dakota State University. He has a deep connection to community colleges. At age 18, he enrolled in a community college in western Nebraska.
After earning his associate degree, he went to work for 12 years before having an awakening that drove him back to school to earn his bachelor's degree and then pursue graduate school. His first job after completing his bachelor's was at a community college in Wyoming, fueling his deep appreciation for the access to higher education that community colleges provide.
"What I get the most joy out of is when I see staff and students doing things they never thought they could do, challenging themselves and then reaching some of those goals," Alvarez said. "We're a small campus, so I get to know a lot of the students personally. It is so fulfilling when you see some of these students come in as freshmen and they're lost and not sure why they're here, and when they graduate they are much different people than when they came here.
"We're an HSI, so I see a lot of students who are like me," he continued. "I think part of my responsibility is to make sure that they have some of the experiences that I didn't have. That's one thing we've really tried to do, make sure that before every student leaves here they have a mentor or a network."
Alvarez wants those mentors to also encourage students to move on to four-year institutions and maybe even graduate school. He did not have mentors until he propelled himself back to college at age 32. Also, he is an advocate for undergraduate research. Several Otero faculty members have summer research projects.
Of Otero's 1,100 students, about 300 to 350 are high school students doing dual enrollment. Of the rest of the student body, there are about 250 to 300 student-athletes participating in the college's 12 athletic programs.
"One of the advantages of having athletes is you almost automatically have this natural sense of connection and belonging," Alvarez said. "All the teams support each other. … Although it happens naturally, we try to be intentional about creating opportunities for what I call collisions. I think it's really important for our students to interact with people who are different from them — whether it's urban and rural, they're first-gen or a person of color — it's important for us to create these collisions for people to interact with each other."
Through the college's Student Equity and Achievement Program, Alvarez oversaw Otero's redesign of classrooms, curriculum and teaching practices to make learning more inviting and inclusive. He said several faculty members took the lead on classroom redesign, including some classrooms having different seating arrangements.
Some faculty also have developed an active learning institute, which has been informative for other faculty by creating more inclusive environments. An example of this occurred with Otero's law enforcement academy, which is a one-semester program that has 15-20 students at any given time. As a result of the director participating in the learning institute, he created a day-long event in which students had to role-play being handicapped, and they had to experience the campus as if they had a disability.
It was eye-opening for students and faculty. Alvarez said it brought things to the attention of administration about the college's cafeteria, such as the fact that there weren't enough seating areas for people with wheelchairs and there were other obstacles to accessing the food and beverages. Adjustments were made.
Alvarez describes himself as a nerd when it comes to education and learning that has always made him seek out information and knowledge. His sense of curiosity drives his staff crazy, he said, because he's always reading articles and books that he shares with them. "It's my job to continue to be curious and ask a lot of questions," he said.
In the immediate future Alvarez plans to be a "full-time grandpa" to his five grandsons under the age of four, who live in northern Colorado. He and his wife will be "helicopter grandparents," not living too close, but close enough to be of help.
This year, he did a keynote address for the NASPA community college institute, which has led to some requests for consulting. People have told him to write a book, which he is planning to do, but not right away. He may do some teaching for programs focused on higher education.
Looking over his career, he said this past year several students he mentored when he was at University of Nebraska-Lincoln received their doctorates. It gives him joy to know they've changed their families' trajectories.
"Almost two-thirds of our students here are first-gen," he said. "A lot them don't know what they don't know. It's part of my responsibility to educate them or spark a little bit of interest to understand how much [of a] privilege it is to come to school and take advantage of it when they're here."