When Clarence D. Armbrister became the 14th president of Johnson C. Smith University (JCSU) in January 2018, he brought his experience in law and investment banking as well as his experience in education that encompassed both K–12 and higher education. When he leaves the presidency at the end of the spring semester, he will have made an indelible impression on the 156-year-old institution in Charlotte, North Carolina, including securing the university's largest single financial commitment, $80 million.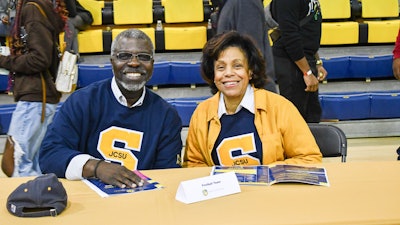 Armbrister highlights his experiences getting to know the university's students and helping them fulfill some of their dreams. "There's nothing like watching young people mature over a period of time," Armbrister said. "Commencement is my favorite time of the year to watch these young birds take flight."
Another highlight was making sure that JCSU achieved its rightful place in the consciousness of the Charlotte community and region. That was part of the strategic plan developed during his presidency.
The development of the strategic plan began in January 2020 at a weekend gathering of board members as well as individuals from the local community. They did what they called "scenario planning." Worldwide pandemic wasn't on the agenda.
"We weren't planning for what we thought the future would be; we were trying to be expansive in our thinking that whatever the future might be, we would be able to adapt to it," Armbrister said. "Little did we know what was coming. That was January. By the end of that month, the first case of COVID-19 was reported in the United States. Less than 60 days after that, we sent everybody home."
Education and work on the strategic plan continued. Part of the strategic plan efforts included reaching out — particularly to businesses — to ask how they saw JCSU being a net-positive producer for the community. They also spoke with potential students and their families. "We did a lot of asking questions and listening, and then it was the development of that plan," he said.
The initial focus would be on a few areas of academic excellence, which would steadily expand over time with the goal of bringing the university a bright future. People bought into the vision and put time, talent and resources into effect. The momentum was propelled by multiple events. In addition to the pandemic, in May 2020, George Floyd died at the hands of a Minneapolis police officer. Armbrister said people realized that intentionality was essential to address systemic issues.
"We had the good fortune in having a great leader in our mayor, Vi Lyles, who took the opportunity to … ponder and then ultimately ask the philanthropic and business community how they could be helpful in really trying to make a difference," Armbrister said. "We were fortunate enough that the mayor heard about the work that we were doing in terms of our strategic plan and ultimately included JCSU in one of her four asks of the community."
Securing financial support
Lyles was aiming to raise $250 million, of which $80 million would come to JCSU over time. Armbrister said the mayor and the community recognized that if they were going to meaningfully address barriers to upward economic mobility in the African American community, they needed to be intentional in supporting higher education institutions. Once JCSU demonstrated its ability to provide much-needed talent to the region, Lyles was able to secure financial commitments.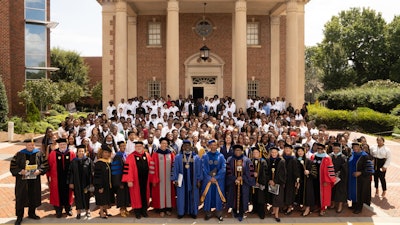 The Duke Endowment provided the lead gift and then others followed. Armbrister has continued to reach out to private industry to make companies aware of JCSU graduates as excellent job candidates and to know an investment in the university helps fuel more excellence in the workplace.
In 2021, when Armbrister was interviewed by Diverse: Issues in Higher Education he noted that 40 of the 48 buildings on the JCSU campus needed anything from some work to a lot of work. The Charlotte area had been through two hurricanes that caused damage. The pandemic brought attention to the need to upgrade technology. As he looks toward retirement, he feels a sense of satisfaction of having made significant progress on both these issues.
"I'm happy to report that through some funds we received through the Mayor's Racial Equity Initiative, we are investing about $9 million in every residence hall on the campus," Armbrister said. "We're going to every room, enhancing the lighting, painting, flooring, and furniture in many instances. Fixing the envelope, no leaks. Trying to fix a/c's and things like that. We know that the quality of the residence halls is an important part of recruitment and retention."
Armbrister said the university also received a $5.5 million grant from NTIA (National Telecommunications and Information Administration) for technology. "It is going to transform our campus into a 5G hub," he explained. "It's not only going to benefit JCSU, it's going to benefit the community as well."
The returns on investing in education
Following this year's JCSU graduation, Armbrister reviewed information about employment of the graduating seniors. He said the seeds that have been planted over the past five years are starting to take root and show results.
Armbrister's own roots demonstrate his commitment to education. While he did not attend an HBCU, his two older brothers did, graduating from Florida A&M University. He understood the nurturing environments. More recently, two of his five children have graduated from HBCU institutions, Spelman College, and North Carolina Central University.
Armbrister holds bachelor's degrees in political science and in economics from the University of Pennsylvania, and a Juris Doctor degree from the University of Michigan Law School. He left work after a decade with then-Saul, Ewing Remick & Saul law firm to pursue his first public job, Philadelphia City Treasurer. He subsequently became the managing director of the Philadelphia School District, serving as both chief operating officer and chief financial officer. During that time Armbrister addressed the issue of underfunding of urban schools.
He returned to the private sector as an investment banker, but ultimately felt a strong desire to work in education. That led to a position at Temple University, where he advanced to the position of executive vice president and COO. While at Temple, he also served as adjunct faculty, teaching a municipal finance curriculum at the Beasley School of Law. In time, he became chief of staff to the president and senior vice president of Johns Hopkins University. Prior to joining JCSU, he was president and CEO of Girard College.
"It really is being able to observe the transformative powers of education at all its levels, but particularly in higher education," Armbrister said. "When I went to work at Temple University, that's when the higher education bug really hit me. I had a president for whom I worked who suggested to me that he thought one day I could be a president."
At JCSU, Armbrister played a role in developing an experiential learning opportunity for students with Red Ventures, a Charlotte-based media company. A class was created that allowed for experiential learning on campus and at Red Ventures. The founder of the company guaranteed the students who achieved a B would be hired. Over a dozen students and graduates are currently working there.
Following his retirement, Armbrister and his wife plan to continue residing in North Carolina and are looking forward to spending more time together. He sits on a couple of boards—one corporate and one large non-profit. He's also looking forward to working on his golf game. That will probably have to wait until 2024, as he will serve as a consultant to JCSU for several months.
"My father introduced me to golf when I was 11 years old," said Armbrister, who grew up in Miami. "He was one of the people who helped integrate the public courses in Miami. I have not done a good service to him in terms of my golf game. My goal is to break 80 before I turn 80, so I have a lot of work to do."
Of course, he will continue to be an advocate for HBCUs. "The worth and value of HBCUs is without question and should never be questioned again," said Armbrister. "In any way and in any forum that I have to promote that, I will."