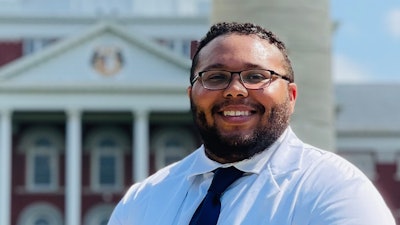 Glenn Gilyot's research as a doctoral student in organic chemistry at the University of Missouri-Columbia and the recognition he has received, while significant, pale in comparison to the satisfaction he has derived from his work with a STEM program for elementary and middle-school students.
Gilyot calls his position as the graduate student coordinator of STEM Cubs at the university "one of the major highlights of the last three years." STEM Cubs is designed to engage students "historically underrepresented in STEM education and career fields," according to the university website. It's the kind of program that builds interest and excitement about science in young people at an early age. "It's a real joy to not only see the students keep coming to our camps but also seeing the instructors and volunteers grow over time to become better educators working in that environment," Gilyot said.
He developed his own interest in chemistry early, mainly through family ties. "My grandfather was a pharmacist and my dad was a chemist working at the New Orleans police department crime lab," he said, acknowledging that "it's really helpful when you have role models in that area." For some students who may not have those advantages, Gilyot plans to step in. "I hope as a professor I can also be a good role model to show people that there are not only Black chemists out there but also Black professors in STEM, and if it's something they want, they can get there too."
As an undergraduate at Xavier University of Louisiana, an historically Black institution, Gilyot majored in chemistry but switched his focus from pre-pharmacy to organic chemistry when he realized how interested he was in the research possibilities. He credits his professors and advisors, including Dr. Candace Lawrence at Xavier, with helping to that realization.
"My research involves making fluorescent sensors to detect changes in blood pH," he said of his fellowship from the National Institutes of Health-Initiative for Maximizing Student Development.
Gilyot explains the intricate process of synthesizing small-molecule fluorescent sensors to be able to detect concentrations of biological materials such as proteins and neuropeptides. "It can be really good for helping people who have conditions like COPD or diabetes, or certain neurological conditions," he said. Part of the fellowship involved mentoring three undergraduate researchers, assisting them in designing experiments and teaching them synthetic techniques.
This fall, Gilyot will take his considerable knowledge and training to his new faculty position at Hampden-Sydney College in Virginia, where he will conduct research and teach. "The fortunate thing is I get to do both. I will have a research lab working with fluorescent sensors but the good thing is helping undergraduate students learn more about fluorescence chemistry. … I think it's a very interesting dynamic," he said.
"Beyond the tangible work that Glenn does to enhance engagement, representation, and inclusion in STEM, he is a fountain of positive energy, optimism, and enthusiasm within the STEM, and larger campus, community," said Jennifer Brown, director of MU's Access and Outreach Initiatives, in nominating Gilyot as a rising graduate scholar. "The significant impact that he is making daily within our community is shaping the future of the Academy. We are grateful."