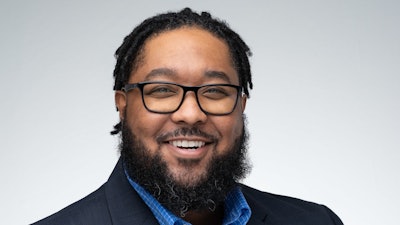 "I can easily see Dom Turner being a college president one day," said Dr. Frimpomaa Ampaw, chair of the Department of Advanced Studies, Leadership and Policy in the School of Education and Urban Studies at Morgan State University. "I don't even know if he sees it for himself, but I see it for him."
Dominique Turner, a fourth-year Ph.D. student in higher education administration at Morgan State, an HBCU in Maryland, said he does not see that as a career goal, but he has seen a shift in higher education that makes his skill set more desirable in a president.
"He has the ability to lead groups and teams," said Dr. Virginia Byrne, assistant professor of higher education and student affairs at Morgan State. "He thinks about big strategies."
Turner, who grew up in Maryland and attended Bowie State University, another Maryland HBCU, for his bachelor's and master's degrees, said he chose a doctoral program that would help him build academic and administrative skills and prepare him to be a scholar-practitioner.
"I was raised in the A.M.E. Zion Church," Turner said. "It was mentors and elders in the church that encouraged me to pursue higher education in the first place. As I made my way through higher education, I started to realize that it was my professors and other administrators that became mentors and examples for me. That helped me know what to aspire to and what kinds of competencies I should have."
Turner said his undergraduate experience at Bowie State helped him understand his skills and interests, which led him to pursue a Master of Public Administration and focus on management and policy. The Black church that influenced his educational journey has become part of Turner's research interests — examining the connection between higher education and the Black church, specifically at HBCUs.
"HBCUs help students to really think about the fact that you can center your Blackness. That is something I have learned, not just at my HBCUs but also in other programs," said Turner, who currently holds fellowships with the Center for Religion and Cities and the California Community College's Pipeline2Possibilities program. The latter focuses on diversifying the classroom space.
"Those fellowships as well as Morgan and HBCUs more broadly have helped me to understand that my Blackness is a strength and I don't have to put it on the backburner to pursue scholarship and knowledge development," he said. "It was at an HBCU that I learned scholarly personal narrative and other forms of writing and scholarship that allow the scholar to center themselves. That's critical for people from marginalized backgrounds."
There are practical applications for his doctoral studies. For example, Turner works full-time as director of non-traditional programs at University of Maryland Global Campus and serves on accreditation teams with the Middle States Commission on Higher Education.
"The program at Morgan has allowed me to learn specific concepts I didn't realize were systems within higher education or specific schools of thought," he noted. "I'm able to think about policy development, how higher education policy influences students from various backgrounds. Looking at finance and budgeting in higher education, how some budgeting policies are inherently racist or they disenfranchise students from certain backgrounds or how institutions are affected by the budget process in state systems."
After completing his doctorate, Turner plans to focus part of his career on making graduate education more humanized and impactful for scholars from historically marginalized backgrounds. He is already building relationships toward that objective.
"I believe institutions have to do a better job of implementing legitimate student support mechanisms that are tailored to graduate and professional students," Turner said.