Community colleges play a critical role, providing affordable and accessible education for diverse populations. According to the American Association of Community Colleges, our nation had over 1,000 public, tribal, and independent community colleges enrolling 10.2 million credit and non-credit students for the 2021-22 academic year; the need to retain top talent among faculty and staff continues to grow.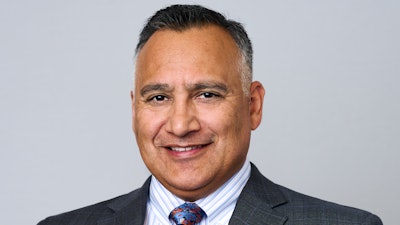 The ability to recruit and retain a diverse and talented workforce is imperative to ensuring the success of a community college system. However, in recent years, higher education, like many industries, is facing significant challenges in filling critical leadership, faculty, and support staff positions due to an aging workforce, a need for more qualified internal candidates, and increasing competition in the labor market.
Furthermore, there has been a growing focus on student success, completion rates, and workforce development within community colleges. As jobs transform throughout the next decade, it's estimated that 17 million U.S. workers will find their jobs are in less demand, with 80% possibly needing to reskill completely. As leaders, we must prioritize attracting and retaining employees who create supportive environments for diverse student populations by using data-driven strategies.
As chancellor of Arizona's most extensive community college system, the Maricopa County Community College District (MCCCD), with nearly 140,000 students, paired with 10,000 faculty and staff members, my leadership philosophy is that we all play a role in the recruitment and retention of our students. Each employee has the ability to lead from any place in the organization, regardless of title and where they work.
MCCCD remains a national leader due to its deliberate focus on fostering a supportive and inclusive environment. A successful balance between employee recruitment and student retention requires constantly evaluating strategies and implementing changes. We have found the following strategies to be effective for our organization.
Create a strong organizational culture
As an employer, MCCCD strives to build an atmosphere that values and embraces diversity, equity, and inclusion. Our organizational culture fosters a positive work environment, which leads to improved job satisfaction and higher employee retention rates. Our newly adopted Strategic Plan provides a roadmap of four key strategies that guide our progress around all MCCCD communities.
Additionally, MCCCD ranked as the highest community college in the nation for women to work, according to the "2022 America's Best Employers for Women List" published by Forbes. Furthermore, out of the 400 American companies on the list, MCCCD secured the fifth position out of all Higher Education Institutions.
Restore competitive compensation
In 2020, MCCCD's Governing Board approved our multi-year Strategic Compensation Plan. The plan aims to achieve pay equity for faculty and staff through targeted goals, including refinement of job class specifications, a mass salary increase moving to market alignment, and an increase to the livable wage. Re-visioning the System's compensation philosophy has reset the foundation for inspiring a culture of total compensation care by valuing the contributions in achieving organizational outcomes. This also acknowledges variations in economic conditions while fostering an atmosphere of continuous growth and learning. The System affirms its belief that people matter and are valued within our framework.
Invest in professional development
After a thorough audit of our professional growth programs, a new policy was adopted in Fall 2022 to establish equitable professional growth opportunities across numerous employee groups. The new policy enables employees to achieve long-range career goals by promoting participation in educational training and experiential learning opportunities. This also includes support to complete degrees and certificates, improve current job performance, learn transferable skills, and to prepare for new opportunities within the System.
Monitor and improve student success
Engaged students are more likely to remain enrolled and recommend their college to others. Therefore, we began the implementation of the Four Disciplines of Execution (4DX) to further our commitment to improving success among traditionally underserved students. After it was first launched at GateWay Community College in 2019, we expanded the model to several colleges and our District Office, with the goal of system-wide utilization by the end of 2023. As a System, we want more students to cross the finish line. As educators, we want more students to have access to what we deliver and do whatever we can to ensure that they are successful so that they enter the workforce or transfer to a university. 4DX is not an initiative, but it is a change in the culture of how we accomplish our work and complete our goals. Furthermore, 4DX improves employee morale because, for the first time, many more employees now see how their work directly impacts the movement toward our goals and contributes to student success.
As MCCCD continues to forge innovative opportunities in higher education, including being one of the first community colleges in Arizona to offer four-year bachelor's degrees, it is no surprise that together transparency and open communication through shared governance among all stakeholders remain the catalyst that drives our organization. This ensures employees as well as students have a voice, equal representation, and are heard in the decision-making process. These are the keys to successful employee recruitment, employee retention, and student retention. This makes Maricopa Community Colleges the most promising place to work, learn, and collaborate with others.
The study also revealed a relationship between a preference for long-term goal setting and the students' cumulative pass rates. It suggests that long-term goal setting can help students stay motivated, plan effectively, stay focused, and hold themselves accountable for their studies. By breaking down larger tasks into smaller, more manageable ones, students can achieve success in college and overcome potential obstacles.
Dr. Steven R. Gonzales is the chancellor of the Maricopa County Community College District.
The Roueche Center Forum is co-edited by Drs. John E. Roueche and Margaretta B. Mathis of the John E. Roueche Center for Community College Leadership, Department of Educational Leadership, College of Education, Kansas State University.